Riders of Justice [Video Review]
Chances Are: Jensen Gets Improbable in Violent Soap Opera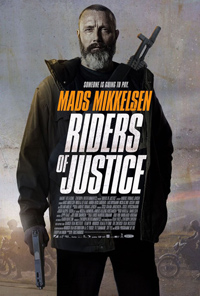 Denmark's Anders Thomas Jensen brings his offbeat skills at scripted ensembles to his fifth feature as director, Riders of Justice, featuring a cadre of usual suspects, headlined once again by Mads Mikkelsen. A celebrated scribe who has penned many of Susanne Bier's most successful films (Brothers; After the Wedding; In a Better World), Jensen has also spent the last two decades building his own career as a director, often with an assortment of oddball scenarios which walk a fine line between dark comedy and maudlin melodrama. His latest is a violent action film hellbent on kooky characterization, like Michael Winner melted on top of Frank Capra's celluloid. The result is a bit of an ineffectual mixed bag of contradictory energies, unfortunately.
A young woman in Estonia voices her desire to receive a blue bicycle for Christmas. A similar bicycle is stolen from Mathilde (Andrea Heick Gadeborg) in Denmark, which ends up having tragic consequences. The stolen bike leads to a car that won't start, as her father Markus (Mikkelsen) has just announced another military tour and vehicular responsibilities are his realm. As mother and daughter take the train, kindly mathematician Otto (Nikolaj Lie Kaas) gives up his seat. An explosion kills eleven people on board moments later. Amongst the dead are Mathilde's mother and an infamous gentleman known as The Eagle, who was due to testify against the criminal syndicate known as the Riders of Justice in just under a fortnight's time. Otto, who had just been fired along with colleague Lennart (Lars Brygmann) for delivering months' worth of work on a useless algorithm supposedly measuring the interconnectedness of preceding events, is sure the explosion was no coincidence. Along with their handy hacker colleague Emmenthaler (Nicolas Bro), the three men approach Markus with their hypothesis, who warms to the possibility of wrathful vengeance.

Mikkelsen wears this stoic characterization like an expertly tailored suit, so whenever he pulls the focus in Riders of Justice, the film comes to life, even if its through violent catharsis. The further out from Markus the scenario goes, the more cringeworthy the film seems, especially as Jensen navigates significant trauma for some characters. Eventually, the scenario throws itself into exploitative territory when Markus and company rescue a sex abuse victim of the Riders.
Although Jensen is associating how hatred is taught amongst generations, the villainous marauders couldn't be more basically cretinous, and Roland Moller feels wasted as the toxically transparent Kurt. Poor Nikolaj Lie Kaas is neutered into a misshapen catalyst forced to referee unnecessarily between Markus and the other two maladjusted members of his ungainly trio, with Nicolas Bro and Lars Brygmann bumbling about like they're doing a Three Stooges routine. What's strange is how ignorant their musings seem for self-professed 'overly intelligent charlatans' in their rationale for how 'people with problems hang together' so their collective issues cancel themselves out by default.
Playing a bit too directly with its themes about probability and coincidence only to determine there is no way we shall ever be able to see the infinite number of connections and ripple effects of every action, it's really a film about groups of people coming together for camaraderie, while their alliances either make the world a better place or a worse one. Despite shoot outs, murders, and Christmas dinner, this is neither Death Wish (1974) nor You Can't Take It with You (1938).
★★/☆☆☆☆☆