From the Norse's Mouth: Ovredal Reclaims a Cultural Asset with Unsatisfactory Results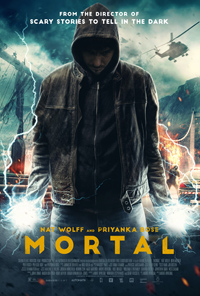 Reclaiming ownership over a reappropriated cultural facet is no easy task, especially when said subject is Norway's mythological god Thor, a literary titan who has been usurped and rebranded, perhaps irrevocably, by Marvel, Chris Hemsworth (and then whoever will play him the eventual rebrand/reboot in Hollywood's song that never ends). But Norwegian director André Øvredal kinda sort returns to his roots with Mortal, a contemporaneous take on what plays like a potential origin story for Thor's immortal descendants. Unfortunately, this conceptualization feels about as Norwegian as General Tso's Chicken can claim to be authentic Chinese cuisine and does no favors for the Norse god's potential cinematic patrilineage.
Eric (Nat Wolff) wakes up from what seems a fiery, distressing nightmare in the burned-out remnants of a homestead in rural Norway. Stumbling through the countryside, discombobulated, he's accosted by a group of wayward youths, one of whom he is forced to kill, which transpires by Eric merely touching him. Arrested for murder, it's discovered he is a Norwegian-American thought to have disappeared in an infamous fire three year prior. Needless the say, the Americans are eager to get him home. But before transport arrives, Eric bonds with kindly psychologist Christine (Iben Akerlie), who bears witness to his astounding capabilities, which include controlling electrical elements and the weather. Waking in the helicopter with Agent Hathaway (Priyanka Bose), Eric's powers, born from panic and anxiety, force a crash landing. Making his way back to Christine, he convinces her to help him and together they attempt to avoid both US and Norwegian authorities, until, upon being apprehended again, a local Sheriff (Per Frisch) wisely suggests they return Eric to the site upon which he woke up from, discovering a significant secret about him.

Nat Wolff remains a curious casting choice as Eric, a character we're constantly reminded is Norwegian-American (and speaks no Norwegian), awakened after a devastating fire rendered him inert three years prior to the narrative. Usually cast as a more clean-cut 'all-American' type, at least as compared to the angsty characters reserved for his equally prolific brother Alex Wolff (Hereditary, 2018), he's saddled with playing a one-note enigma who's chased around from point A to point B in continual rotation, treading itself into a tedious, never ending chase sequence.
A forced romantic attraction to Iben Akerlie's (Lake of Death, 2019) poorly written psychologist, who seems committed to making illogical decisions regarding Eric, only makes the usual hoped for elements which fill in for bland storytelling (like chemistry, charisma, uniqueness, nerve and talent and all that sorta jazz) more glaringly absent. Priyanka Bose is wasted as the face of the US government dead set on returning Eric to his homeland. This meager subplot is another underwhelming tangent, especially since it recalls a slew of cinematic endeavors which scored anxiety through nebulous governmental agencies (1984's Firestarter, for instance, isn't a good film, but it does instill the sense of dread for characters being hunted by a governmental agency which wants to do worse things than kill them). And so, Mortal plays like an X-Men knock-off in today's world (not unlike the coolly received remake of Carrie in 2013) without any twinkling supporting actors to offer a cache of interest.
Øvredal, who came to prominence for his 2010 film Trollhunter and last year cemented his Hollywood appeal with Scary Stories to Tell in the Dark, seems keen on interesting ideas which become engulfed by mechanics. Trollhunter certainly suffers beneath the veneer of its special effects and fantastical creatures, while The Autopsy of Jane Doe (2016) also runs around in circles. The glory of Scary Stories was its omnibus structure—we never have to stay with its characters beyond the thrust of their predicaments. Mortal, on the other hand, reaches the end of its lifecycle well before the credits roll.
★★/☆☆☆☆☆