The Dark and the Wicked [Video Review]
Something Wicked This Way Runs: Bertino Gets Bleak with Rural Horror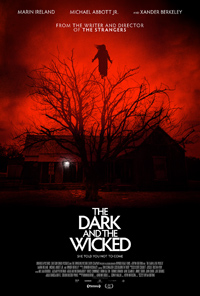 Director Bryan Bertino continues an exploration of his sinister fetish with trapping sweetly conceived white folks trapped in hopeless circumstances with fourth feature The Dark and the Wicked, a title as gothic as it is evocative of soapy melodrama (take, for instance, the similarity to the obscure but worthwhile J. Lee Thompson title The Weak and the Wicked, 1954).
The setting and all its trappings couldn't be more troubling and dire than in his latest exercise which finds two adult siblings torn between caring for their dying father by staying to face a supernatural presence which threatens to throw them all into a maelstrom of madness.
Louise (Marin Ireland) and Michael (Michael Abbott Jr.) are brother and sister, reunited under dire circumstances when they return to their childhood farm in the middle of nowhere USA to assist their mother (Julie Oliver-Touchstone) while their father is on his death bed. The usual yammering proliferates their conversations while a nurse (Lynn Andrews) tends to dad's physical needs. But mother is acting erratic. Worse, something more undefined seems to be amiss, because a presence in the shadows is creep up to the threshold. One unassuming evening, mother chops her fingers off and hangs herself in the barn. Discovered by her children, their shock is only topped by the increasing evidence of something sinister afoot. The nurse confirms their mother seemed to be talking to a presence, and they're eventually spooked into having their father evaluated for admission to a hospital. However, the man is deemed too frail to move. But when one of the siblings grows cold feet, the presence, which seems keen on conquering every member of this somewhat scattered family, grows stronger.

Bertino is probably still best known for his lavishly marketed 2008 debut The Strangers, a glossy Liv Tyler-Scott Speedman starrer which was basically a remake of the hit 2006 French title Them (it even spawned a 2018 sequel, The Strangers: Prey at Night, which Bertino produced). He was last seen terrorizing Zoe Kazan in 2016's lowkey but effective The Monster, as a mother fending off an unpleasant creature to protect her child while they're stranded on the side of a desolate road. But the siblings in his latest are perhaps tied into the most universally ambiguous 'should-I-stay-or-should-I-go situation when they arrive to greet fate (despite being advised not to) at their father's death bed. The audience is clued into the weirdness earlier, but from their perspective, the mother's body hanging from the rafters signals a troubling, unanticipated curve ball. Bertino increasingly descends into the promised darkness without ever letting up, leading to frustrating, albeit believable rationales for why they both stay.
A key sequence involves the arrival of Xander Berkley as a kindly priest who had been providing their mother succor prior her to demise. Quickly, we learn this is suspect considering the family's (refreshingly) atheist belief system and confirming a major subtext of the film's reversal of the 'wolf in sheep's clothing' theme. Religion is the harbinger of evil and Berkley pops up again in one of the film's creepiest throw offs. But it's really Michael Abbott Jr. and especially Marin Ireland who make The Dark and the Wicked so consistently enterprising in what is ostensibly a familiar scenario (DP Tristan Nyby should also consider this title one of his calling cards with its menacing duality across light and dark sequences). More surprising, however, is Bertino's resistance to a pat resolution—it's a film which remains dark and wicked through and through.
★★★½/☆☆☆☆☆