Man with a Movie Camera: Levitas Aims for Noble Rendering of Horrific Toxic Waste Contamination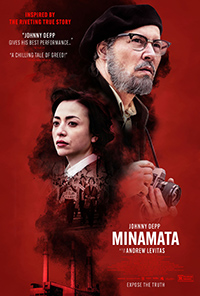 You've heard it before—corporate greed and government corruption colluding to cover up or continue the poisoning its local population for capital gain. In fact, it's still going on right now in Flint, Michigan (to name one of several prominent contemporary examples). But director Andrew Levitas scores a major acquisition in star Johnny Depp to headline his sophomore directorial outing, Minamata, which recounts the travails of WWII photographer W. Eugene Smith, whose career was shortly revived in 1971 when he traveled to Minamata, Japan, commissioned by Life magazine to document the considerable effects of mercury poisoning on the local population due to the willful negligence of Chisso Corporation. The chemical company, which supplied liquid crystal and other plastic products, was actively polluting the water in the surrounding area with industrial waste from 1932 to 1968. Levitas crafts his narrative around the perspective of Smith, who suffered his own extensive injuries in his pursuit of justice, but the film's sacrosanct quest for admiration on the shoulders of its noted protagonist overrides the visceral horrors, its rigidly patrician structure resting on celebrity and a boiler plate narrative.
W. Eugene Smith (Depp), celebrated war photographer, is about to say au revoir to his dwindling career, steeped as he is in financial debt in 1971 New York, when his final lifeline, "Life" Magazine editor Robert Hayes (Bill Nighy) allows for a dubious commission for Smith to travel to Japan to investigate and uncover the poisoning of a fishing village in Minamata. Dependent upon the resilient Japanese translator Aileen (Minami) and a local organization protesting the local Chisso Corporation's fault in dumping mercury sulfate into their industrial wastewater, Smith captures the photographs which would eventually be used in exposing the corporation and landing a settlement for the village's inhabitants—though the receipt of their compensation has been another matter entirely.
One of the film's bigger issues is its dual dependence on Depp and Smith to unveil the narrative, whereas Aileen or another local focal point might have yielded more authentic emotional peaks. But Levitas tries to allow the horrors to speak for themselves, both in reenactment and Smith's actual photography, which works to an extent. But the dark, despicable reality of Minamata gets eclipsed by Smith's characterization, introduced as a reclusive alcoholic who has all but given up on his career and whose interest in considering Minamata is motivated by his attraction to Aileen. Add to this the distraction of Depp, who despite his hirsute wisps delves into the gonzo closet a la his noted Hunter S. Thompson impersonation in Fear and Loathing in Las Vegas (1998).
If Smith was responsible for allowing his reputation to shine the spotlight on Minamata, one wishes some of the Japanese characters would have been crafted as more than stock types, either defined solely by their relationship to Smith (as in Minami's Aileen), their particular ailments (Ryu Kase's Kiyoshi) or grassroots roles (Tadanobu Asano's Tatsuo Matsumura).
The script, adapted from the book by Mr. and Mrs. Smith via Levitas, David K. Kessler, Stephen Deuters and Jason Forman, assembles them mostly in formations of a Greek chorus. Paired with some risible dialogue in sequences where Depp's Smith coaches Minami's Aileen as she expresses in interest at helping with photography, these slights hobble the bigger picture of Minamata. Prominent in the supporting English speaking cast, Bill Nighy is allowed the chance to develop a wider range in his limited scenes, though the insistence of including his emotional reaction upon receiving Smith's photos of Minamata is unnecessary as the film doesn't take the proper time to dissect the expected repulsion and disgust from both the importance of revealing to the public such realities as well as the grisly shock value which generates publication sales.
While the film was beautifully shot in Japan and Belgrade by Benoit Delhomme (At Eternity's Gate, 2018), the intensity promised by Ryuichi Sakamoto never reaches the eeriness or the emotion it primes the audience for. Not unlike Todd Haynes' 2019 title Dark Waters, which follows a familiar trajectory of the noble, self-sacrificing savior, Levitas spends even less time on mining the historical timeline which led up to Smith's involvement, leaving brief montages of the grisly feline footage which sparked the disease's previous name as "dancing cat fever." Instead, these various traumas are reduced to clunky exposition in the dialogue, concluding with the usual subtitles, which again, spend more time on the subject of Smith than the continued reality of its victims.
Reviewed on February 21st at the Berlin International Film Festival – Berlinale Special Gala programme. 115 Mins.
★★/☆☆☆☆☆