One Has to Ask: Weiner's Debut a Floundering Misfire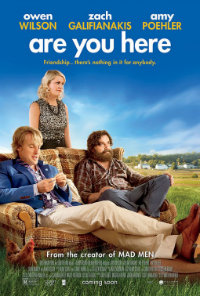 Success sometimes has a blindsiding effect on self-criticism and control, which may very well be the excuse for the feature directorial debut of "Mad Men" and "The Sopranos" scribe Matthew Weiner, Are You Here, which is a nauseous, floundering excuse for a film. If you're confused about whether you're meant to laugh at or feel pity for these unengaging stereotyped people, it's probably because the cast seems unsure of this as well. Painfully, obnoxiously miscast, there isn't one single moment that works in the entire film, which is nearly two hours. Originally titled You Are Here when it premiered at the Toronto Film Festival in 2013, it's as if the refashioning of statement to question is posed for anyone left in the audience that stayed until the end credits.
Steve Dallas (Owen Wilson), a fulsome weatherman from Annapolis, seems bored with life, freely frittering it away on women and inebriation. He's the sole social contact for his best friend, Ben Baker (Zach Galifiankis), a mentally unstable loner who eschews the human condition and has been painstakingly trying to write a meritorious novel. But when Ben's dad dies, the friends return to Ben's family farm. There, his very young stepmother Angelina (Laura Ramsey) and hostile sister Terri (Amy Poehler) attend the funeral, and at the reading of the will, it turns out Ben gets the bulk of the inheritance, about 2.5 million dollars. Rejecting it because he doesn't believe in having money, Steve does his best to convince Ben to take it because he knows he'll get some. Meanwhile, the angry Terri files an injunction against her brother, which leads to a psychological evaluation for the troubled man. At the same time, Steve begins to have feelings for the doe eyed Angelina.
Reportedly recut after initially receiving a poor reception, there is not any amount of retooling that could reinvent Weiner's basic concept about estranged family members haphazardly haggling over a sizeable inheritance. The film's tagline about friendship rather ironically sums up the feel of the film with, "…there's nothing in it for anybody." But even with the banal clichés that litter the horrendously uneventful script, Weiner's casting impairs the film even further.
As the bipolar, dysfunctional brother attempting to eke out his existence on the fray a la Henry David Thoreau, Zach Galifianakis dons his asexual weirdo persona once more. His strangeness isn't meant to elicit cheap chuckles but genuine empathy for a deeply troubled individual. Instead, we feel oddly apathetic and annoyed with this lazily construed portrait of mental illness. Likewise, Owen Wilson is a smarmy charmer, the kind we've seen him several times over. This is a performance that could have been directly injected from The Internship (2013) and we'd be none the wiser.
And let's not forget an utterly wasted, equally dulled down Amy Poehler. Weiner is certainly not the first filmmaker to completely underutilize her, but he's stuffed a serious amount of famed comedic talent into an anesthetized family drama that doesn't seem to be saying anything other than those who have rich parents must be real lucky.
Laura Ramsey seems to be the only performer clear about what the tone of the film should probably feel like, yet she's stuck looking like a fool, harpooned between romancing the unlovable Wilson and copulating with Galifiankis. Meant to distract us from the nothingness happening on screen, David Carbonara's score has been slathered all over every conceivable moment, trying to prime us for laughs and false whimsy. But as Wilson and Galifiankis chew through their dialogue, punchlines fall flat, while several scenes seem laboriously cut and reconfigured. Wasted opportunities from such promising names don't get much worse than this and Are You Here is not a place you'd like to be.
★/☆☆☆☆☆