Vampire humaniste cherche suicidaire consentant | 2023 Venice Film Festival Review
Sentimental Succubus: Louis-Seize Finds Love is All Consuming in Vampire Rom-Com
"Love means never having to say you're sorry" read the tagline for the quintessential 1970 romantic drama Love Story, in which a young man and woman from different walks of life fall hopelessly in love. The application of this sentiment to Humanist Vampire Seeking Consenting Suicidal Person, the directorial debut of Ariane Louis-Seize, deepens the disturbing metaphor of love's ravaging nature. In essence, the film is a black comedy about a reluctant vampire whose compassion for her required victims threatens her life until she finds a suicidal young man who yearns to be her rite of passage. However, their supposed complementary desires end up resulting in a connection more complex and bittersweet in this inventive take on two love interests from a much more stringently divided categorization.
Sasha (Sara Montpetit) is the youngest child in a clan of vampires, including her grandmother (Marie Brassard) and parents (Steve Laplante, Sophie Cadieux). At a detrimental birthday party, she's gifted a clown to entertain her before he becomes the family's feast, an event which traumatizes her. Having developed a compassionate reverence for humans proves to be troubling and eventually fatal, stunting the growth of her fangs and forcing her parents to hunt for her, keeping a steady stock of blood for their growing daughter to drink. But then Sasha meets Paul (Felix-Antoine Benard), a depressed, suicidal young man who's being bullied at school. When he discovers she's a vampire in need of developing her necessary life skills, he offers himself as a willing sacrifice. But Sasha determines they first must satisfy Paul's lust for vengeance against his foes.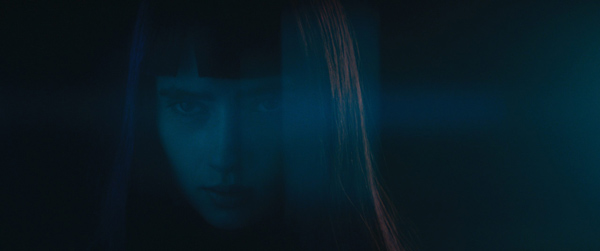 Guilt ridden vampires have long been a staple of the subgenre, their internal struggle to survive whilst murdering humans for sustenance posing an intriguing paradox. One need look no further than Anne Rice's Louis from The Vampire Chronicles series, originated on film by Brad Pitt in 1994's Interview with the Vampire from Neil Jordan. Vampires in teen sex pot comedies have also been done before, such as the Jim Carrey-Lauren Hutton comedy Once Bitten (1985), an energy this film sometimes recalls. As Sasha, Sara Montpetit resembles the morbid affection of Wednesday Addams mixed with another reluctant vampire, Krysten Ritter of Amy Heckerling's Vamps (2012), a wide-eyed innocent whose adolescent development of fangs have been delayed thanks to the 'compassion' triggered by her needs rather than hunger. Her parents, having tired of hunting for her, decide to push her out on a limb to catalyze her development by forcing her to live with a man-hungry cousin, Denise (Noemie O'Farrell).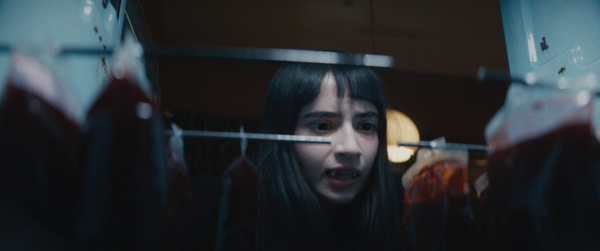 A self-help group for the depressed and anxious leads her to Paul's orbit, with Felix-Antoine Benard given some of the same taskings recently applied to Nicholas Hoult as the titular Renfield (2023), though there's a sweetness here which was lacking in Chris McKay's recent offering. The finale finds a happy medium for these troubled teens thanks to the interference of Paul's mother, a nurse who ends up being a conduit to their salvation. Utilizing intriguing flourishes (including bonding over an old record of Brenda Lee), Humanist Vampire Seeking Consenting Suicidal Person is very much like Sasha, an entity on her own bizarre little wavelength. In a world of familiar and parallel film narratives, Ariane Louis-Seize has formulated her own cult classic in the making.
Reviewed on September 3rd at the 2023 Venice Film Festival – Giornate degli Autori. 92 Mins.
★★★/☆☆☆☆☆
Related Topics:
2023 Venice Film Festival, Ariane Louis-Seize, Canadian Cinema, Christine Doyon, Cinema of Canada, Félix-Antoine Bénard, Foreign Film Review, Jeanne-Marie Poulain, Kelly-Anne Bonieux, Line Sander Egede, Luc Boudrias, Ludovic Dufresne, Marc Beaupré, Marie Brassard, Marie-Pierre Grenier, Noémie O'Farrell, Patrick Hivon, Pierre-Philippe Côté, Sara Montpetit, Shawn Pavlin, Simon Gervais, Sophie Cadieux, Stéphane Lafleur, Steve Laplante, Thierry Bourgault D'Amico, top-stories, Vampire humaniste cherche suicidaire consentant, World Cinema review
Nicholas Bell
Los Angeles based Nicholas Bell is IONCINEMA.com's Chief Film Critic and covers film festivals such as Sundance, Berlin, Cannes and TIFF. He is part of the critic groups on Rotten Tomatoes, The Los Angeles Film Critics Association (LAFCA), the Online Film Critics Society (OFCS) and GALECA. His top 3 for 2021: France (Bruno Dumont), Passing (Rebecca Hall) and Nightmare Alley (Guillermo Del Toro). He was a jury member at the 2019 Cleveland International Film Festival.