Green Border | 2023 Venice Film Festival Review
The Good Pole: Holland's Humanitarian Drama a Steady Drizzle of Misery Porn
The difference between an exploitation vs. a social issue film can sometimes be difficult to ascertain, sometimes straying into both territories, usually depending on the agenda of its makers. It's much more difficult to pinpoint where a well-intentioned social issue movie turns into the kind of desensitizing miserabilism often dismissed as torture porn, when sadism curates polarizing audiences members, at best preaching to the members of its own choir. The latest from Polish auteur Agnieszka Holland, Green Border, arguably can't be classified as such, but she comes close with a social issue film otherwise shining a rather important light on an ongoing humanitarian crisis, one which should shame the Polish government, if art were still able to have such a consequential effect.
Set in October, 2021, after Belarusian president Aleksandr Lukashenko invited refugees to his country with sinister intentions, promising them they could cross the border into Poland and apply for asylum more easily under false pretenses, what follows is a two-and-a-half-hour howl of anguish divided into five chapters. Although clearly not intended to be an enjoyable experience by any means, Holland's creation is most effective in how she uses her platform to speak truth to power. The first three segments are a powerful, harrowing indictment on Poland and the world at large, but a schmaltzy dip into white knighting territory hampers the film's intent. The overkill is the hand wringing of those who, perhaps few and far between, jeopardize their own safety to do the right thing.
Bashir (Jalal Altawil), his wife (Dalia), father (Mohamad Al Rashi) and their three children excitedly land in Belarus after spending years in a refugee camp after fleeing Syria. They've not been informed about the actual intentions of Belarusian president Aleksandr Lukashenko and fantasy access to Europe through Poland. On their way to the border, they're accompanied by a kindly Afghan woman they met on the flight, Leila (Behi Djanati Atai). However, it's immediately clear the conditions promised are a lie, and they're soon trapped in a hellish cycle, tossed across the border zone by both countries as the Polish Border Patrol has been authorized to do whatever it takes to keep these refugees out of the country. On the opposing end of this problem is one such agent (Tomasz Wlosok), whose own wife will shortly give birth, the house he's constructing near the exclusion zone frequency used by refugees hiding in the woods. A group of hand tied Polish activists do what they can, but are assisted by Julia (Maja Ostaszewska), a psychiatrist suddenly awakened to the violence exacted upon these people firsthand. However, the Polish population has been largely indoctrinated to believe these refugees are dangerous, and thus the dehumanization process has become an endless vicious cycle.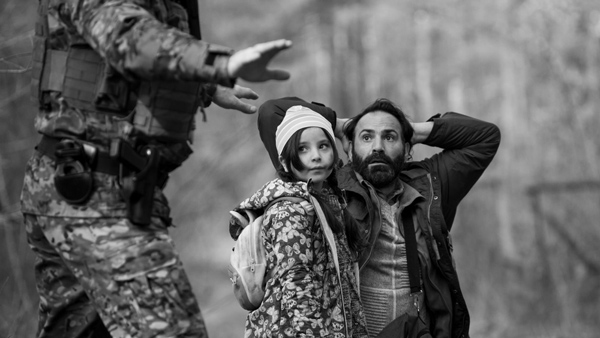 Without a doubt, Green Border is an incredibly distressing experience, made all the more excruciating because it's reflecting an ongoing cruelty, whereas most cinema provides the safety of depicting past atrocities we relentlessly believe we've progressed from as a species. Holland's film freely conjures similar war horror heinousness similar to two other recent explorations, the tormenting adaptation of Jerzy Kosinski's The Painted Bird (2019) and Jasmila Zbanic's searing Quo Vadis, Aida? (2020), landing somewhere in between the success of these two grueling spectacles.
Bearing witness to the experiences of Leila alongside Bashir's family, where they're tossed violently across borders until they die, is galvanizing, both as a heartbreaking reality and as a distillation of helplessness for the spectator. The performances of the actors portraying these refugees are above reprieve, transportive in their aching power. Joely Mbundu (of the Dardenne Bros. Tori and Lokita, 2022) is also part of this denigrated group, receiving some of the most drastic treatment as a pregnant woman who is peripheral to Holland's main focus group.
The same cannot quite be said for the roles written for the activists, try as they might to supersede the cliches of the script from Gabriela Lazarkiewicz-Sieczko and Maciej Pisuk. The most successful of these 'good' Polish people would be Maja Ostaszewska, who gets her own chapter segment as a psychiatrist living near the exclusion zone, witnessing the barbaric treatment of the border patrol first hand, motivating her to join the activists, whose hands are considerably tied in the help they are able to provide. The passivity of well-intentioned liberalism is already being critiqued due to the horrific reality of the scenario, so when Agata Kulesza shows up as Julia's friend to say she's down to clown with a quiet candlelight protest but can't be bothered to do anything more, Green Border quite awkwardly hoists itself out of the trenches to preach the obvious. What's more interesting is the juxtaposition Holland highlights on how the Polish government handled Ukrainian refugees while it continues to actively violate the human rights of those crossing through Belarus, including Syrian and African refugees (in other words, anyone with darker skin). Why the film's epilogue showcases the same activists now working with this group of refugees instead leans into hokum, especially considering an end statement regarding the ongoing crisis.
Some of Holland's most notable works across her six decades of film have dealt with experiences of humans caught in the crosshairs of war, from 1985's Angry Harvest, her most lauded work, 1990's Europa Europa, and 2011's In Darkness, to name a few of those highlights. Green Border will likely become one of her most important achievements, and rightly so. But it's also a film which slides into frequent bouts of hand holding in its final hour, sermonizing a reality the horrors of its visuals say more effectively than any words ever could.
Reviewed on September 5th at the 2023 Venice Film Festival – In Competition. 147 Mins.
★★½/☆☆☆☆☆