Three Months to Kill: McNamara's Derivative Hodge-Podge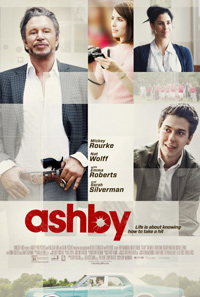 You'll neither laugh nor cry, but hover somewhere in an emotionally dysthymic plateau watching Tony McNamara's sophomore debut, Ashby. It's the Australian director's sophomore feature, his first time behind the camera in over a decade following the well-received 2003 film The Rage in Placid Lake. Since then, he has worked exclusively as a writer for television, experience readily evident in certain verbal witticisms glancing through this latest feature. And yet, this also feels like some oddball made-for-television feature, mashing a handful of genres into pulpy goo made up of assassin espionage, familial bonding, and adolescent melancholia tinged with romance.
Improbably focused on the relationship of a terminal ex-assassin bonding with his next door neighbor, a precocious high school student, the developing relationship changes their trajectories—in all the ways you could possibly predict considering each of their backgrounds. But McNamara can't juggle these tonal tangents successfully, and the results feel like a derivative mixture of other recent underwhelming familiarities.
Leaving behind the progressive climes of Oregon for some Midwestern rural armpit, 17-year-old Ed (Nat Wolff) is forced to move with his mother (Sarah Silverman) following a divorce. He experiences difficulty with fitting in, the type of curious and intelligent teen who spent his summer reading Hemingway, an admission which automatically makes him fodder for homophobic epithets from the jocks in English class. Luckily, a plucky young female (Emma Roberts) takes an interest and Ed sets his sights on proving all the stereotypes wrong by trying out for the football team. But a class assignment puts him in the orbit of his new next door neighbor, Ashby (Mickey Rourke), a crusty old loner whose recent health condition has him in need of Ed's driving services. As they spend time together, the two men learn surprising things about one another.
Ashby feels as if it were trying to combine the narrative aesthetics of St. Vincent (a curmudgeonly Bill Murray befriends his new young neighbor) with 3 Days to Kill (Kevin Costner as a terminal assassin trying to bond with his daughter over a long weekend). While this may be better than several Mickey Rourke films we've seen following his popular resurgence from The Wrestler (McNamara's film is nowhere near as painful to sit through as something like Passion Play or Black November), it's hardly a feather in his cap. Looking exceptionally grizzled, Rourke is the least of the film's worries, his titular character engaged in the usual business of terminal ex-CIA assassins, burying hatchets and settling old gripes erstwhile looking obnoxiously robust.
As his lead co-star, Wolff continues to be cast as these moderate wunderkind's, an eternal outsider wheedling his way into the fore with grating earnestness. We've seen him in this mode several times already, both as minor comic relief (The Fault in Our Stars) and as brooding lead (Paper Planes). Improbably, his character juggles teen romance with Roberts (effective if unmemorable), a relationship with his single mom (Silverman, an undersexed mother that almost reaches moments of endearment when the actress isn't being utilized for laughs), and improbably landing a prominent spot on the football team (with bitchy coach Dunn), all while driving around the old CIA codger next door for a school assignment. The obtaining of wisdom has never felt so roundabout and tedious. Arguably pleasant in its ability to vaunt this familiar narrative across the screen, Ashby never crosses into a realm that seems relevant.
★½/☆☆☆☆☆