Reviews
Maurice Pialat Retrospective: Under the Sun of Satan | Review
Soak up the Sun: Pialat's Palme d'Or Winning Spiritual Anguish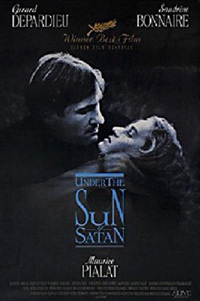 As part of Cohen Media Group's Maurice Pialat retrospective, perhaps the most significant title showcased in the lineup is his infamous 1987 title, Under the Sun of Satan. Instantly reviled after winning the coveted Palme d'Or at the Cannes Film Festival (with a jury made up of such heavy-hitters as Elem Klimov, Jerzy Skolimowski, Theo Angelopoulos, and Norman Mailer), where Pialat was jeered by a disapproving crowd, the title quickly lapsed into obscurity following a continually tepid critical reception.
Perhaps Pialat's austere and increasingly deliberate examination of mental and spiritual anguish told through the perspective of a bumbling priest whose blasphemous predicament proves only the presence of Satan rather than God was as simultaneously too old fashioned as it was inconveniently provocative. Based on a 1927 novel by French author Georges Bernanos, Pialat's treatment does seem to belong to another period of filmmaking, where subject matters such as these where more readily acceptable, from European masters like Bunuel and Bresson. But revisiting it now reveals it to be an unsung arthouse masterwork.
Father Donissan (Gerard Depardieu) is a priest struggling to reconcile his deflated passion for his profession with his overzealous desire to help those in need. He mortifies his flesh as a way to feel close to God, but increasingly finds himself haunted by the notion of the devil. His superior, Father Menou-Segrais (Pialat) is vexed with Donissan's severe inability to relate to the congregation, and so he sends him off an errand. The journey ends up being a fateful one, for Donissan encounters not only the devil, but the troubled young woman Mouchette (Sandrine Bonnaire), helpless and pregnant after having murdered one of her lovers.
In the decades following, several titles Pialat competing for the Palme went on to reach considerable, even iconic acclaim, including items like Wim Wenders' The Wings of Desire (he snagged Best Director), Stephen Frears' Prick Up Your Ears, and Barbet Schroeder's Barfly, among others. The festival also featured the final work of famed Georgian director Tengiz Abuladze, Repentance (which took the Grand Prix), another auteur who's works have faded into unfortunate obscurity. With the jury announcing its unanimous decision to award Pialat, the notorious verdict was ultimately quite a daring one in retrospect. Since its premiere, the title has been compared almost exclusively to the stringent works of Bresson. This is no surprise considering Bernanos was also the author of the source material for Bresson's 1951 classic Diary of a Country Priest (as well as the 1967 Bresson film Mouchette, a name and similar scenario Bernanos initially used here—in fact Satan is a melding of similar themes Bernanos focused on separately in these two later novels). Pialat's film also represents a less tangibly defined period between someone like Bresson and Bruno Dumont, an auteur who proves to be equally fascinated with religious provincial themes in works like Hadewijch (2009) or the superb and underrated Outside Satan (2011).
In Satan, Pialat reunites with his two previous stars, Depardieu of his 1980 film Loulou, and his cinematic discovery Sandrine Bonnaire, who made her debut with À nos amours (1983). Together, they concoct a heady juxtaposition of pleasure and pain. This sexually promiscuous young woman and the self-mutilating priest are two facets of the same paradigm, using the ways of the flesh to come closer or move further away from identity.
Mirroring each other's personal conflicts, these are two human beings who've begun traveling down a path they no longer wish to continue—but social propriety won't allow either to turn back. Mouchette is damned, a social pariah amongst womenfolk and now a murderess because her only route to redemption, via the promise of her lover(s), is not possible.
Father Donissan is a bulky, brutish odd-man-out in his profession, causing alarm amongst the congregation rather than peace and comfort. He uses pain and severe flagellation to bring himself closer to the notion of God, but he instead stumbles upon a personification of Satan, who grants him healing powers (following an oddly homoerotic sequence wherein the dark lord perverts the notion of human intimacy beyond the labels of orientation). However, Donissan's powers are ultimately corrupted because they come from the wrong source (in a guise not unlike a figure like Cassandra from Greek mythology, cursed with a gift no one can appreciate). Hence the oxymoronic title muddying notions of light and dark, good and evil. Poor Father Donissan can only find proof of the latter, bringing him to the mouth of madness.
Distressing as it is morbidly depressing, famed DoP Willy Kurant exquisitely frames these juxtaposed characters assumedly with the same motif in mind. Bonnaire, not quite as emotionally overwrought as in the earlier Pialat title (though she does get an eerie sequence carefully edited to create a sense of perfect unease) is a like a beautiful breath of life being slowly extinguished, a white light eventually cloaked and dimmed. The cumbersome Depardieu is framed like the sore thumb in nearly every scene, never more evident than in a stroll through the beautiful countryside, a dark speck amidst nature's greens.
While Under the Sun of Satan (can you think of a more fantastically prominent title?) would go on to snag its fair share of Cesar nominations (winning none), the title received little love outside of France. When it received a theatrical release in the US in 1989, many critics weren't very enthusiastic (to see one of the most thick-headed examples of film criticism check out Hal Hinson's grossly impertinent review from The Washington Post). Now, sandwiched in with a chunk of Pialat's other underrepresented works, perhaps it can be reconsidered rightly as part of the critical cinematic canon.
★★★★½/☆☆☆☆☆