Reviews
At the Devil's Door | Review
Devil in Disguise: McCarthy's Latest an Unnerving Indie Horror Film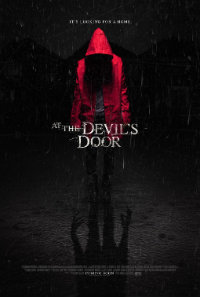 Every now and then, a horror film comes along that's reminiscent of a certain heyday in the genre, when understated supernatural elements were used to unnerving effect and not overwhelmed by comedic flourishes or found footage gimmickry. With his sophomore film, At the Devil's Door (initially titled Home at its premiere at the 2014 SXSW Film Festival), Nicholas McCarthy manages to create an unsettling environment that's most startling for a certain level of unpredictability. While some uneven plotting and awkward moments in character development mar the process, this is an illustrative example of how capably creepy independent American horror films still have the potential to be.
A teenage girl (Ashley Rickards) is convinced by her new boyfriend to sell her soul, which she seems to do willingly, not quite sure her visit to a remote trailer where she is advised to go 'down to where the roads meet' and say her name aloud for a wad of sweaty cash is really serious. It turns out, the transaction was a valid one, and something comes to take what it paid for. Meanwhile, a lonely realtor, Leigh (Catalina Sandino Moreno) is hired to sell a property whose owners are no longer able to pay the mortgage. There are mysterious burn marks from a recent fire and the couples' teenage daughter ran away some time ago. As Leigh prepares the house for sale, a waterlogged young woman appears, the young lady who sold her soul, apparently to retrieve the cash left in the dresser. Assuming this is the couple's daughter, Leigh attempts to help the girl, but suddenly finds herself embroiled in the terrible darkness that the girl sold herself into. This forces Leigh's rather cold sister, Vera (Naya Rivera), a painter on the verge of success, into the mix, ultimately causing irreparable damage.
In 2012, McCarthy adapted his successful short film The Pact into a feature length film to rather underwhelming effect. This time around, the director's made good on the initial promise of his first feature, eschewing the general tired formula these types of narratives (especially recently) have come to consist of. There are, however, some unexplained or unclear instances that prove to have a nagging effect once the credits roll, such as how the entity in question could or could not choose its victims, etc. Likewise, the information revealed about the sisters, such as Leigh's inability to have children, is revealed in bumbling fashion. Catalina Sandino Moreno continues to be a surprising presence in her offbeat role choices, here as the ill-fated realtor vicariously living through her artistic, introverted sister. While "Glee" star Naya Rivera isn't as compelling onscreen as Moreno, she gets some of the film's best sequences, including an eerie conversation concerning what happened to Rickard's character via an old classmate.
By the time we get to some provocative third act twists, the hyperactive sexual presence will have you in mind of classics like The Entity (1981) or perhaps more B grade fare like the John Cassavetes headlining nasty The Incubus (1982). There are moments of 'creature' CGI used sparingly, just enough to help maintain a level of mounting tension. The film's use of terror- inspiring furniture rivals that of glossy high production horror, like The Conjuring. Effectively chilling despite several distractions, McCarthy arrives as a genre director to watch for with this wildly bizarre flick that establishes an uneasy foreboding and never lets it abate.
★★★/☆☆☆☆☆