Heroes Don't Die | 2019 Cannes Film Festival Review
Crimes of the Heart: Rapin Explores Mediums as Remembrance with Inquisitive Debut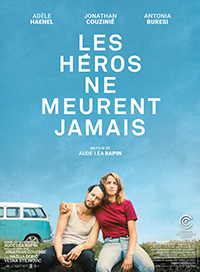 The idea of reincarnation was once a virulent staple of American genre films, particularly in the 1970s as its own pop shock subgenre. It's the foreboding jumping point for director Aude Léa Rapin's directorial debut Heroes Don't Die, which pivots into an art-house exercise on notions of cinema as the only tangible prospect of immortality available to humans as well as a way to document the hauntings of trauma. Rapin scores Cesar winner Adèle Haenel in the lead as an empathetic documentarian, standing in for the director's own transformative Bosnia-Serbia experiences from her youth. The end result is a rather odd duck, mixing perspectives and paralleling dualities of life and death, love and friendship, war and peace, imaginary and reality. More an essay on commemoration than an emotional reclamation of unfulfilled lives cut short, Rapin explores the difficulty in interpreting a present divorced from the distant ghosts of the past or the unforeseeable inevitability of the future.
Thirtysomething Parisian Joachim (Jonathan Couzinié) relays a troubling experience with a stranger to his friend Alice (Adèle Haenel) which has convinced him he has been reincarnated as a man named Zoran from Bratunac in Bosnia (and an area devastated during the Bosnian War). Alice had previously spent some time there and is initially swayed to believe in the merit of Joachim's claims when he begins to experience waking nightmares with clues of Zoran written in Cyrillic on his body. Packing up a small film crew, including an unseen cinematographer and a similarly convinced sound technician (Antonia Buresi), Alice aims to make a documentary on her friend's experience. Eventually, more information about Joachim comes to light and finding the final whereabouts of man they seek proves to be harder than anticipated.
Rapin begins her film with a troubled narrative relayed by Joachim, which is being filmed by Alice. Troubling and unclear, we're dropped into the immediate suggestion he's been reincarnated by a deceased Bosnian man who died on the exact day he was born. As his troubled behavior suggests, it would seem at the very least, Joachim believes this to be true. And so Heroes Don't Die opens similarly to the troubled protagonists plagued similarly by the spirits of the dead in films like J. Lee Thompson's The Reincarnation of Peter Proud (1975) or even Arthur Marks' classic Blaxploitation title J.D.'s Revenge (1976), films which go beyond the pale of mere possession and instead focus on men as receptacles for the bidding of spirits with unfinished business. And Rapin has certainly found a locale unworthy of mining atrocities suggesting an infinite amount of unfinished business.
Yet, the harder Alice and her small team comes to discovering something about Zoran, the more the narrative becomes about her specific ties to Joachim, a man we learn has a congenital heart condition. Alice's own motives take on mysterious dimension—has she ever believed his claims of being inhabited by the spirit of Zoran or are her intentions a complexly packaged gift of guilt and homage? And thus, the spiritual heart of Heroes Don't Die recalls something a bit more offbeat and enigmatic, like the Ellen Burstyn led Resurrection (1980), where physical trauma engenders the potential for mysterious insights and preternatural drives. Certainly the film's dialogue also hints at overarching motifs of recycling as natural order, including a character sharing thoughts on returning as flowers (which recalls the tragic "Where Have All the Flowers Gone?" from Pete Seeger).
As character motivations begin to take focus, Rapin's film becomes less mysterious and more sobering, with Haenel's Alice taking on unexpectedly empathetic magnitude. While doubt is cast over Joachim's claims, the third act gets a bit uncomfortable as Alice revisits figures from her past (Hasija Boric) and Joachim encounters potential relatives of the deceased Zoran. Events are orchestrated to continue their troubled adventure, and it slowly becomes unclear for whose benefit—the potential integrity of Alice's project or a cathartic tribute for Joachim? Rapin prizes ambiguity, however, and the lack of resolution leaves us with a familiar existential conundrum, where our understanding slides about on a complex nexus, hanging in the balance.
Reviewed on May 17th at the 2019 Cannes Film Festival. Critic's Week. 85 Min.
★★★/☆☆☆☆☆