Dan in Real Life: Fogelman's Sugary Directorial Debut Hobbles its Own Charms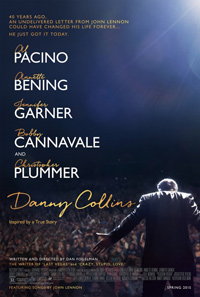 Screenwriter and producer Dan Fogelman makes a high profile directorial debut with Danny Collins, nabbing a handful of high profile names to lead his glossy family issue drama wrapped in melodramatic showbiz antics. When he's not writing directly for children and family friendly audiences (Cars; Bolt; Tangled), Fogelman's screenplays are often gilded with jejunish countenances (The Guilt Trip; Last Vegas), the types of outrageous yet uncomplicated cinematic fabrications that hail from some medicated hinterland beyond the realm of mere escapism. His first stint as a director finds him returning to this hypertrophic mode of drama wherein potentially insurmountable life tragedies get mushed together to equal one big positive, though kernels of authentic emotions sometimes shine through the contrivances.
Danny Collins (Al Pacino) is an aging rock star currently touring with another greatest hits album. Famous since the 1970s, drugs and alcohol have severely weathered him, and he's long lost his passion both for his music and most of the people in his life, including his much younger fiancée, Sophie (Katarina Cas). As a birthday gift, his best friend and manager Frank (Christopher Plummer), presents Danny with a grand surprise, a letter that had been sent to Collins directly from John Lennon. The presence of the letter, written by Danny's idol, inspires the performer to reinvent himself. He cancels his tour and toddles off to a New Jersey Hilton where he camps out to write his first original material in three decades and try to get in touch with his estranged son, Tom (Bobby Cannavale).
Danny strikes up a flirtatious, though reluctant rapport with the friendly hotel manager, Mary (Annette Bening), but finds that introducing himself into his son's life is much more difficult than he had anticipated. Tom wants nothing to do with his dad, but Tom's wife Samantha (Jennifer Garner), six months pregnant with child number two, feels differently. In an attempt to win them over, Danny uses his fame to snag them an interview at a top notch private school in New York which specializes in educating children that suffer from ADHD, which is exactly what their young daughter Hope (Giselle Eisenberg) suffers from. Tom's hand is further forced when he accidentally reveals to his father that he has been diagnosed with a terminal illness but cannot tell Samantha because the terrible news may harm the new baby. Meanwhile, Danny writes a new song and has trouble performing it since his fans only want to hear the big hits. This compromises the growing relationship that's begun to flourish with Mary.
Too much of Danny Collins is addlepated with trite convenience. Of course this famous rock star has estranged, angry offspring, and of course the outcome basically satisfies the audience's emotional need for some kind of resolution. Fortunately for Collins' relations, their hurt feelings can be assuaged because they have a slew of medical conditions that large sums of money can alleviate.
What's more interesting is Pacino's performance as a grizzled pop star, given one 'timeless' hit to sing, something that sounds an awful lot like Neil Diamond's 'Sweet Caroline.' Pacino is often charming as the imaginary Collins (though we're told this is kinda based on a true story) and his flirtatious scenes with Bening are generally entertaining. Likewise, Plummer is amusing as Collins' affable curmudgeon of a manager. As one can predict, the saccharine sweetness of the pouty Garner and the doofy tendencies of Cannavale are meant to completely define the rudimentary composite of a working class Jersey clan with health issues that would seem to indicate they're living close to some corporation leaking cancerous sewage into their water supply.
Cursed by its own contrived conveniences, those seeking authenticity in these caricatures will be sorely disappointed, especially considering that it's sometimes just good enough to hint at a kind of paralyzed potential circling somewhere, in some other messy realm.
★★/☆☆☆☆☆