Ghosts | 2020 Warsaw International Film Festival Review
Panoptic prison: Okyay's wonderfully dark debut puts Turkey under surveillance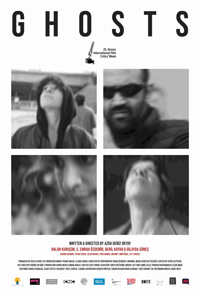 Turkish filmmaker Azra Deniz Okyay's directorial debut uses micro-stories to discuss substantial socio-political issues. Titled Ghosts, themes of injustice, inequality, the gentrification taking the poorest districts of Istanbul by storm, authoritarianism and patriarchal society – all clearly mark Turkish society as depicted in this well thought-out drama.
Loosely intertwined characters' storyline threads converge, on a day which culminates in the burst of political tension. For Okyay, the female perspective is important – the two leading characters are Iffet (Nalan Kuruçim), who tries to get money to free her son from jail, and her young friend, hip-hop dancer Didem (Dilayda Günes). No less expressive but remaining in the shadow of the main characters is the figure of activist Eli (Beril Kayar), boldly protesting against gender inequalities.

Details are the foundation on which the story is built. Syrian refugees from the poorest part of the city are pushed to the pavement in the process of revitalizing Istanbul, women are objectified – Didem is not allowed to dance, but she's expected to obey her superior's orders without hesitating – and Iffet's son is blackmailed by fellow prisoners. The male world is an oppressive one, full of violence, control and a constant surveillance of private life.
Various perspectives and the multitude of moral images are only a pretext to show a broader picture of the socio-political conditions of life in contemporary Turkey under the authoritarian rule of Tayyip Erdoğan. Even the form of the film is a critique – the characters are framed intimately, often by hand (DP Barış Özbiçer includes phone footage with non-traditional angles), as if recorded from a hidden camera, creating an atmosphere of being watched. Being in constant tension, under the whip of a higher authority who is always alert, is a predicament typical of people living in totalitarian countries, whether in prison, hospital or schools. Places where discipline and unquestioning execution of commands matter the most. Therefore, the impulses of the characters' individualism will be inhibited – as in the case of Didem's sharply interrupted dance.
Ghosts is a multi-layered work – expressive and terrifying, this debut is centered both on helplessness and on persistent hope, which is inherent to the inhabitants of Istanbul; and it is split between the oppressive world on top, and a hidden, inner dimension of micro-stories on the ground. These characters are constantly looking for a way out, but the deeper they go into the darkness, the more they realize that in order to free themselves they have to become the real ghosts – dancing among the shadows of ruined dreams.
Reviewed on October 15th at the 2020 Warsaw International Film Festival – Discoveries section. 90 Mins. Part of the The Fipresci Warsaw Critics Project.
★★★½/☆☆☆☆☆