Lover Come Back: The Dassani Brothers Explore Obsessive Love Through Genre Veil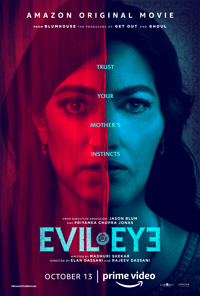 For their feature film debut Evil Eye, brothers Elan and Rajeev Dassani straddle a set of juxtapositions, across two continents, two time periods and the thin distinction between life and death. Unfortunately, it's somewhat of a Trojan Horse, masquerading as an ill-suited genre effort merely as a way to avoid explaining any real parameters for the supernatural conceit serving as the dramatic catalyst.
Still, it's a welcome lead opportunity for the ever-luminous Sarita Choudhury, even though her character's deep-seated cultural convictions could have been more deeply drawn. A notable supporting cast assists in keeping the narrative rolling to the end credits, but your own eyes might be turned skyward in displeasure if you make it to the fade out.
Pallavi (Sunita Mani) is tired of her mother Usha's (Sarita Choudhury) constant harangues about finding a proper Indian husband, a situation more strained because mom lives in New Delhi while her child lives in New Orleans. When Usha tries to orchestrate a meet-and-greet for her daughter with a professional visiting Louisiana from Texas, the potential suitor's lateness to the café appointment allows for Pallavi to make eyes at handsome stranger Sandeep (Omar Maskati). A tentative flirtation leads to full blown romance, and Usha is delighted to hear her daughter has netted an Indian fiancé all on her own. But when Sandeep begins to correspond with Usha and Pallavi's father (Bernard White) on the phone, something strange occurs. Usha recognizes some of Sandeep's phrases as those belonging to a former lover, an abusive man who thirty years prior cursed her unborn child with the Evil Eye as he sank to his death in the water after a violent altercation. In a panic, Usha flies to New Orleans to find her worst fears realized.
Sunita Mani (who also stars in the recently released Save Yourselves!, another low-key genre product which doesn't quite offer her a chance to shine, though her work in television series like "Mr. Robot" and "GLOW" might be a better opportunity to see her capabilities), and one wonders what Pallavi might have played like if scribe Madhuri Shekhar (adapting from the 'audio original' format) had she been granted greater dimensions than a young, worldly woman defined solely by rebuking her mother's marital intentions.
Her courtship with Sandeep is wantonly superficial, and some interiority on her part would have gone a long way towards raising the dramatic stakes. Same with the cultural traditions of an Indian mother's attempts to secure her daughter a culturally appropriate husband, here hobbled by distance but still trenchantly defined as necessity (see Kumail Nanjani offering a lighter example of this in The Big Sick, 2017). The same goes for the ethnic make-up of a city like New Orleans, where mention is made of the limited opportunity for Pallavi as far as finding a mate her mother would approve of (though, come to find, it seems there are way more potential men than either character assumes based on the finale), as the location seems egregiously wasted considering its historically supernatural potential. And herein is where Evil Eye tends to grate as the actual titular otherworldly amulets are more or less forgotten about, and despite the vague poetics of the opening credits, aren't properly utilized, at least insofar as explaining how and why Sandeep materializes.
Despite its somewhat lackluster narrative, Evil Eye does give us a welcome performance from Choudhury, who wowed in her debut from Mira Nair, Mississippi Masala (1991) and has appeared in a number of high-profile projects since, though often as powerful supporting characters. Sri Lanka's Bernard White as her husband is also a fitting accent, a noted character actor from a variety of films (though perhaps best known for his appearances in The Matrix and Captain America sequels). The bones of the narrative perhaps provide the most interesting elements, the former crazed lover of a woman returning to seduce her daughter to re-enter her life might actually have made for a better scenario sans the supernatural angle.
★★/☆☆☆☆☆