May the Force Dismiss You: Falcone & McCarthy Amuse Themselves in Latest Improv Heavy Exercise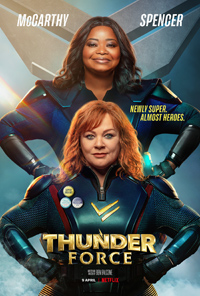 Comedy is harder than it looks, especially if one is delivering a particular brand of unfluctuating tomfoolery. Director Ben Falcone and his muse/wife/star Melissa McCarthy unite for the fifth time in Thunder Force, a pseudo-superhero satire which delivers on the all-too-familiar brand of the latter's penchant for playing hapless fools who somehow always derive redemption by the final frame once the obligatory and predictable third act shenanigans run their course.
By now, the duo, whose partnership was generated following the runaway success of 2011's Bridesmaids would seem to have run its course, having taken on the expectedness of Jim Varney and his prized Earnest P. Worrell characterization. As with their previous effort, 2020's Superintelligent, it's hard to tell if the final product was meant to be more amusing for those who made it than any discernable sense of audience engagement. Hey, it's a mindless popcorn flick, but sometimes those represent the best way to navigate taboo or controversial subjects, even if it's lampooning our continual cultural obsession with comic book escapism geared for the comprehension and appropriately rigid consumption of teenagers. Somewhat of a missed opportunity considering the pedigree of its cast, unless you're already on board for what Falcone and McCarthy have to offer. Ultimately, there are no surprises here.
In March 1983, cosmic rays hit the Earth and for some reason allowed for cellular mutations in various humans prone to sociopathic behavior, creating a league of supervillains who would come to be called Miscreants. In Chicago, 1988, a husband-and-wife geneticist team are wiped out in a Miscreant onslaught, leaving behind their daughter Emily to continue their research in developing superpowers for 'good' humans to fight the Miscreants. In 1994, Emily would meet Lydia, a young girl who comes to her defense in elementary school. But a falling out their senior year estranges them until their twenty-year reunion, which happens just as Emily (now Octavia Spencer) returns to Chicago as an Elon Musk-type guru whose Stanton 4.0 has finally developed a serum which will grant an otherwise normal human super strength and invisibility. When Emily doesn't show to the reunion, Lydia treks down to her research facility and accidentally causes a snafu wherein she's injected with the only available serum allowing for super strength. Dismayed, Emily, alongside her colleague Allie (Melissa Leo), an ex-CIA agent, and her own fifteen-year-old daughter Tracy (Taylor Mosby), moves ahead with using the invisibility serum on herself, and together, the two friends bond once again as crime fighting duo Thunder Force. But a suspicious mayoral candidate (Bobby Cannavale) and two noted Miscreants plaguing Chicago, Laser (Pom Klementieff) and the Crab (Jason Bateman), have other plans for the windy city.
Back in 2014, their odd duck Tammy at least suggested ideas and narrative structure were something to be concerned about, and The Boss offered a bizarre reprieve of feminine empowerment for McCarthy (even if it was ripping off Troop Beverly Hills, 1989). Their zenith was 2018's The Life of the Party, which hit a sweet spot with McCarthy's disarming charm and actual gags/jokes/social commentary—perhaps because they were grounded in the familiar and banal. Falcone feels out of sync with loopy sci-fi cliches, as evidenced in Superintelligent and now Thunder Force, which is an absolute waste for Oscar winners Octavia Spencer and Melissa Leo.
Spencer's range knows no bounds—just look at the beautiful insanity of her walk-ons in either 2010's Dinner for Schmucks (her ten second bit is the only reason to revisit it) or 2016's Bad Santa 2. Falcone seems so earnest in approaching Emily Stanton, her fate as a screen presence mimics her superpower—she's invisible (except for when the film insists on making her visible to us even though, in diegesis, she's not supposed to be). Given a back story not too far removed from the Tessa Thompson character in Men in Black: International (2019), it feels like strange evidence of discomfort in dealing with Black characterizations in mainstream 'escapist' fodder. Why are Emily and Lydia friends? Schoolgirl savior moment aside, they never have any chemistry, which is oddly forced in a bit where Marcella Lowery as Spencer's grandmother suggests there was a lesbian vibe about their friendship (cue another lost opportunity along the lines of Fried Green Tomatoes or Captain Marvel). Falcone is hardly interested in developing any of his characters, but for those penned in earnest (Spencer, Taylor Mosby), he also doesn't allow or inspire them to improvise like his usual suspects.
At the same time, it's hard not to enjoy the idea of Spencer and McCarthy fighting what seems like a global issue in tightly contained Chicago neighborhoods, but how they're wasted is downright shameful. Even the weird jokes about their age (ostensibly, they're supposed to be in their late thirties) allows for several offhand moments addressing this, but even those should have been an opportunity to revel in its bizarreness. Instead, we get McCarthy in garish make-up which seems to be trying to overcompensate.
An odd paean to Chicago (and, Glenn Frey), Jason Bateman reunites with McCarthy after 2013's Identity Thief, and their chemistry allows for mild amusement (though nowhere near the way both an odd romance and a crab were utilized in the irreverent and charming Barb and Star Go to Vista Del Mar). Everyone else feels as if they're merely paraded about without anything to do. Kevin Dunn is an overly invested café owner; Cannavale, who played McCarthy's troubled love interest in Superintelligent, has a storyline full of plot holes; Pom Klementieff and Melissa Leo have things to do and say you won't remember by the time the credits roll.
A fun and interesting idea, Thunder Force ends up as evidence for why a script might be necessary—because if this had been the introductory film wherein we were introduced to Ben Falcone as a director or Melissa McCarthy as a star, they wouldn't have gone on to make a string of additional feature length studio-backed films.
★/☆☆☆☆☆