It's the Journey, Not the Destination: Burger Hurtles into Space for Humanity's Last Stand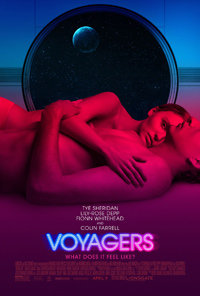 Perhaps it's not what Emerson envisioned, but the sentiment remains the same in the latest offering from Neil Burger with Voyagers—it really is all about the journey. In space, no one can hear teen screams in this simple but surprisingly adept formula of humans being bred solely for the continuation of the species whilst sacrificing what it is to truly feel alive.
A handsome young cast led by Colin Farrell (whose placement in the credits predicts his fate perhaps a bit too clearly) journey to the sole inhabitable planet as Earth becomes a wasteland. Yes, it's a wholly familiar conceit, which might explain why Burger rushes through the extraneous and obvious details of humankind's exploitation to explore equally topical issues of the constant vulnerabilities which suggest, given the chance, how we will merely plunder the natural resources of another realm to selfishly serve our own parasitic nature. Despite some cut corners, it's a fascinating and frustrating exercise while representing a return to form for Burger, whose sweet spot tends to be genre infused filmmaking.
Earth's ability to sustain human life is on a significant wane, leading scientists to rake the solar system for a potential substitute. A distant planet has been identified in the year 2063 but reaching it will take 86 years. An experimental escapade finds 30 children created from the sperm and egg cells of brilliant human minds to be raised in isolation. They are being prepared to jettison into space without knowing what an uninhibited life on Earth felt like. Eventually, their grandchildren will be the first to step foot on humankind's new home.
Richard (Colin Farrell), a lonely scientist in charge of educating the children until they're old enough to man the ship themselves, announces he would like to make the journey with them, untethered as he is to anyone at home. This allows the expedition to take off four years early. After ten years hurtling towards their destination, the children have grown into young adults. Christopher (Tye Sheridan) and Zac (Fionn Whitehead) discover not only a secret compartment not listed in the ship's architectural design, but the crew has been unwittingly ingesting a substance in the water they call 'blue,' which inhibits sexual urges and keeps them all at a docile, agreeable level. Foregoing their daily dose, they begin to experience new sensations, including a shared desire for Selah (Lily-Rose Depp), the no-nonsense Chief Medical Officer and favorite of Richard's. Rumors of a potential alien presence following them and a sudden inability to communicate with Earth is the first chapter of an evolving tragedy, where the children suddenly find themselves gravitating towards debauchery.
Basically, the teen protagonists are on the first leg of a relay race, doomed to forgo seeing the team's victory (or at least being able to enjoy a long retirement if they live long enough to see the fruits of their labor). It's perhaps the most interesting element of Voyagers, featuring naive, hormonal twentysomethings ponder the reality of their conditioned captivity. The resentment of those who embrace the dark side is wholly understandable. Whitehead seems to revel as an out-of-control villain, and quickly, Burger descends into the madness of William Golding's Lord of the Flies once adult supervision disappears.

Fearmongering and fake news allow for the film's uncomfortable, sometimes obvious messages, to correspond with the same old things happening here on Earth right now. But Burger also pays homage to direct perversities, regulating the masses by dulling their senses. While playing into fluoride conspiracy theories, it's in keeping with elements of Huxley's Brave New World and Wells' The Island of Dr. Moreau, where technological hubris and desperation create a whole new level of dysfunction (and utilizing similar teen parameters like Ender's Game, 2013).
Sheridan's Christopher plays like those painstakingly square but necessary stalwart protagonists of 1950s B-grade sci-fi, so its really the women of Voyagers who tend to lend Burger's film its more interesting accents. Lily-Rose Depp is surprisingly adept as the Chief Medical Officer, but Chante Adams as Phoebe (Bad Hair; Roxanne Roxanne) gives another lesson in turning a potentially throwaway supporting turn into something layered and empathetic. There's even at least a smidge of feminine sexual agency through Quintessa Swindell's Julie.
At the same time, Voyagers could have pushed more significant boundaries than it does, especially considering how the mechanism of breeding and grooming humans specifically to procreate via science rather than sex would likely necessitate different kinds of conceptions and understandings regarding sexual orientation and desire (not to mention how other social constructions, such as race and class could be effectively negated in such a brave new world). DP Enrique Chediak (who has lensed his fair share of dystopian big budget efforts, including a number of YA efforts like The Maze Runner or The 5th Wave) creates a lowkey science lab in space, a microcosm of containment where human energy is bursting to get free.
★★★/☆☆☆☆☆