Immigrant Song: The Personal is Political in Sharrock's Quietly Sincere Portrait of Asylum Seeker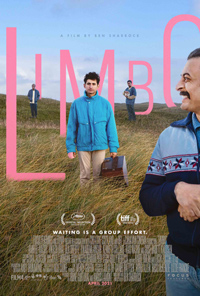 The plight of the political asylum seeker is a complex situation mired in specific bureaucratic underpinnings depending, of course, on where someone is coming from and where they hope to get to. Like the title of a famed Joyce Carol Oates story, "Where Are You Going? Where Have You Been?" are the simple questions of which the answers to yield a formidable, labyrinthine waiting game, evoked succinctly in the title of Scottish filmmaker Ben Sharrock's sophomore film, Limbo (not to be confused with the 1999 John Sayles picture, which utilizes a different kind of metaphor). A serio-comic character study which builds to a quiet crescendo, odd peripheral details, and a compelling performance from Amir El-Masry, assist in avoiding the expected pratfalls of such a scenario constructed by an outsider's perspective for a warm, morose-leaning comedy about an untenable experience which could be preachy or Kafkaesque but instead characterizes human experience.
Selected as part of the canceled 2020 Cannes film festival program, Sharrock takes us to the forlorn Uist Islands off the northern coast of Scotland, where a group of various refugees endlessly await the outcome of their applications for political asylum. A dive bar, a grocery store, and daily lessons about the ways of their hopeful new country allow for brief reprieves from a monotonous reality. Musician Omar (El-Masry), who fled unknown traumas from his native Syria, where his parents still reside, is consumed with anxiety about their safety, as well as that of his older brother, who stayed beyond to fight. No one has heard from his sibling, and Omar's predicament is downplayed as cowardly by comparison. Time marches forward, and some of Omar's cohorts suggest the process could take months or years, a period which also dictates the asylum seekers may not engage in employment. As Omar grows close to a fellow refugee, he slowly begins to regain his passion for music, specializing in the oud, a lute-type instrument, he has brought with him.

A variety of recent features have utilized asylum seekers in intriguing ways, showcasing a myriad of possibilities in neglected narrative perspectives. From Romola Garai's Amulet, a modernization of Berlin Alexanderplatz, and His House from Remi Weeks, European cinema seems at last ready to absorb the complexities of contemporary refugees in flourishes which extend the conversations beyond the soap box. Sharrock takes an unexpectedly different approach in this sensible ensemble led by El-Masry's mournful Omar, whose anticipation is compounded by his relationship with his family, who are quick to praise his brother's decision to stay and fight, even as they all fear the worst. The difficulty in getting through to them via an isolated pay phone heightens a sense of eternal estrangement. His sole source of joy as a musician who specialized in playing the oud, has been thwarted by the apathy born from his new reality, and the accompanying dialogue nails the subtext regarding a folk talk on the plight of birds who forget how to sing (not unlike the symbol of the detached piano key in Campion's The Piano, 1993).
El-Masry's wistful drift is interrupted by the insistent engagement of Vikash Bhai's Farhad, an Afghan refugee who slowly brings Omar back into experiencing his present and enjoying the meager moments available to them. Sharrock spackles in several sequences involving a pair of Scottish instructors who are supposedly trying to teach the varied asylum seekers on the island the ways of their culture, played with droll finesse by the always enjoyable Sidse Babett Knudsen and Kenneth Collard.
These moments could easily veer into off-key slapstick, but there is a deadpan weirdness reminiscent of a Roy Andersson sketch. Sharrock manages to get some sublime digs in the script, such as chatter about having the luck to be a 'popular refugee,' seeing as El-Masry has unfortunate bad timing as a Syrian asylum seeker, seeing as that was so 'last season.' It's what ultimately makes Limbo an interesting exercise, putting a plainly human face to a grueling process which, like all legislative red-tape, depends on topicality and relevancy to merit the attention of others.
Shot by Nick Cooke, who makes fine use of endless Scottish plateaus stretched thin and sparse over the rural Hebrides, Limbo stops short of really leaning into its Coen Bros. possibilities for a sterling character portrait and a lovely lead performance.
★★★½/☆☆☆☆☆