Going Hamm in Beirut: Sharply Written, Compelling, Old school Hostage Drama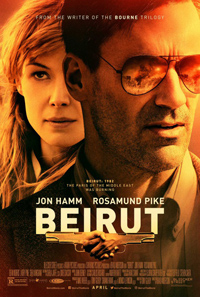 Set in guess-where, Beirut is a snappy foreign diplomacy thriller so smart and steeped in detail that it that warrants multiple viewings. Scribed by Tony Gilroy, directed by Brad Anderson, this Argo meets Bourne Legacy is not your typical hostage-drama, nor is it action-packed. In the style of John Le Carré, much of the film's conflict is internal—more psychological than physical. Jon Hamm stars, likable as ever, playing Mason Skiles (the requisite American Bond-style diplomat). However: instead of kung-fu or sharpshooting, Hamm's power is peacemaking by way of his 'gift of gab' … and here, Gilroy's script doesn't miss a beat. In fact, it's so airtight that your mind will be replaying dialogue from a previous scene well into the next.
The film starts in the '70s, then jumps to the 80's, after civil war has ravaged Lebanon's largest city. This leap allows psychological wounds to fester:  Skiles's tortured past has led to an alcohol problem. Nevertheless—almost comically—he's still the best man for the job. Following an abduction of government personnel, he is forced back to Beirut to confront demons and tie up loose ends. He faces war-torn cityscapes with barely suppressed guilt, much like the father of a neglected child. He agrees to help, begrudgingly … but this time around, in order to broker peace—and right past wrongs—Skiles must first make peace with himself.
Despite a predictable set-up, the film is saved by a tongue-in-cheek approach and some well-positioned twists. Even better, Hamm is in full movie-star-mode here, in his best big-screen role to date: the perfect fit for his effortless charm and reluctant morality. A solid supporting cast adds net value: Dean Norris, Larry Pine and Shea Whigham as the concerned-parent gov't ops; Mark Pellegrino as Skiles' tightly-strung frenemy; Rosamund Pike as the simpatico attaché (she brings her A-game, but her character is underdeveloped). Most memorable is Whigham as no-nonsense Gary Ruzak, a persona he's been perfecting over the years; the scenes where he butts heads with Skiles are among Beirut's best.
The script might have played even better 20 years ago, but news excerpts that appear post-credits tie it to a much bigger picture … and the plot's throwback settings allow us to add our own present day-parallels. Gilroy–who wrote the Bourne movies; directed both Michael Clayton and the underrated Bourne Legacy; and came to the rescue of Rogue One for reshoots–is a true history nerd, a writer who comprehends emotional heft.
Production design via Arad Sawat (Foxtrot) is filled with authentic detail; the dialogue tempers jargon with wit; suspense builds with finely-tuned timing; almost everyone has an ulterior motive. Not that it's perfect: the villains are predictably Middle Eastern – and, frankly, humdrum. But even so, by the film's conclusion, Beirut manages to critique all sides at play, thereby subverting the 'white savior' mentality of Americans overseas. A substantial film within its genre: pure, old school entertainment with riches that will surprise even veteran viewers.
★★★½/☆☆☆☆☆
Reviewed on January 22nd at the 2018 Sundance Film Festival – Premieres. 110 Minutes