An American Pickle | Review
Relish the Moment: Trost Attempts a New Colossus in Simplistic Comedy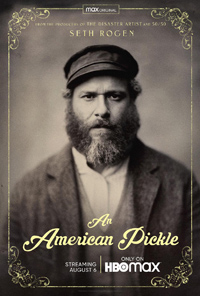 In a familiar idea which sounds better on paper as a comedic scenario than it does as a film, cinematographer Brandon Trost makes his first solo directorial effort An American Pickle with two dual roles for Seth Rogen. While mildly amusing and not without the ability to generate a few chuckles, it turns out there is too much of a good thing when it comes to Rogen, who dominates nearly every frame in a tale of modern-day Brooklyn. Easily manufactured metaphors about heritage, family and our contemporary culture built on the religious hypocrisy which has bloomed into fascism and nationalism, all feel like neutered afterthoughts in the wake of various shenanigans which conveniently neglect the most interesting potential elements of its framework.
In the Eastern European country Schlupsk, ditch digger Herschel Greenbaum (Rogen) has just met the love of his life (Sarah Snook) when the Cossacks ravage his hometown. Immigrating to Brooklyn in 1919, he finds work as a rat killer in a pickle factory only to fall into a vat of brine just as the company's building is condemned. Untouched for a century, Herschel makes his way out of the brine in 2019 thanks to two kids flying a drone. Examined by scientists, he is released to his only surviving relative, great grandson Ben (also Rogen), living in Brooklyn and struggling to get an app off the ground which would allow consumers to discover the ethical integrity of products they purchase. However, Herschel's involvement with Ben dashes his dreams and the two men find themselves at odds when Herschel finds success as an artisanal pickle maker and then a promising candidate for political office. When an identity switch finds Ben exiled back to Schlupsk, both men eventually discover the worth in one another.

We've usually seen this mechanism in thawed Neanderthal characters, from Fred Schepisi's Iceman (1984), and that Pauly Shore/Brendan Fraser comedy Encino Man (1992). Based on the short story "Sell Out" by SNL writer Simon Rich, who also wrote the screenplay, An American Pickle sometimes feels like a claustrophobic trap in Rogen's omnipotent wake. Sweet and albeit entertaining as Herschel, the ancestor from the fictional European nation of Schlupsk, his modern-day Brooklynite is less defined and merely a familiar composite of Rogen's usual persona. Parallels which could have been drawn between the Cossacks who plagued Herschel's existence during the onset of WWI with the Russian interferences which have defined the last several years of the United States and the interactions between both country's despots aren't quite navigated, and frustratingly, the suspension of disbelief in the narrative requires a neglect of any interest in the logical publicity which would be generated by the discovery of a century-old pickled man. Instead, it's another exercise in the critique of social influencers (Kalen Allen, Eliot Glazer) and how the media allows for popularizing problematic perspectives. Still, there are some moments in which Rogen is quite magnetic as Herschel, and one wonders how his energies in this character might have better responded with another actor portraying Ben.
Welcome appearances from Sarah Snook, Marsha Stephanie Blake and Sean Whalen are all a bit underscored by an inability for them to have more screen time. Unfortunately, An American Pickle plays like another project made by friends who are mostly amused by themselves, not unlike several Seth Rogen vehicles, with this project playing more like This is the End (2013) or The Interview (2014), than say, the magic of The Disaster Artist (2017), all films Trost served as cinematographer on.
★★½/☆☆☆☆☆