I Used to Go Here | Review
Going, Going, Gone: Rey Finds Solace in Regression with Idle Dramedy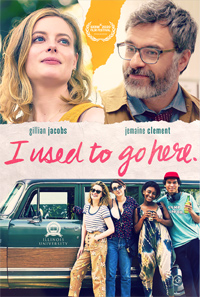 As a framing device, nostalgia has the slant of a moral lesson gleaned from Greek tragedy. Only a significant difference is whether the notion of nostalgia is purposefully used in cinema or literature to advance the tribulations of its characters or as suffocating fumes from the accidental missteps of its authors. Landing somewhere in a confusing nexus between these two points is the fourth feature from Kris Rey (the first under her new surname, previously known as Kris Swanberg) I Used to Go Here, which, as its title suggests, examines the experiences of a woman who revisits her past to fantasize regressively on what she could have been and then progressively reclaim some useful elements which evaporated in later adulthood.
Just as writer Kate Conklin (Gillian Jacobs) has achieved one of her dreams with the publication of her first novel, everything seems to come crashing down around her. While her fiancé has left her even before the printed wedding invitations have arrived on their doorstep, her book tour is canceled due to low sales. The 35-year-old suddenly receives an offer from an old professor at her alma mater, David (Jemaine Clement), to speak at her university in Carbondale, IL and read from her novel. Jumping at the chance, especially since she still nurses something of a crush on David, Kate takes a train out of Chicago only to find herself awash in memories of places and things from fifteen years prior. While her host is an ornery B&B owner located across from her old college house, she takes a jaunt down memory lane and finds herself inveigled with the students living there for the remainder of her stay.
Though even-keeled, a significant issue with the happenings over one semi-tumultuous weekend in I Used to Go Here is a stunning lack of either comedic or dramatic tension. Though she's sweet, likeable and level-headed, there's nothing innately crystallized in Gillian Jacob's performance as Kris, a woman who feels as much a template as the coterie of students she becomes entwined with are tabula rasas.
Much like a free-wheeling undergrad afternoon of fluctuating plans, compromised alliances and trenchant angst, how the somewhat level-headed and pretentious collegiates engage and interact feels more or less authentic, but Kris' headlong embrace of their general banalities, and some eventual physical entanglements, doesn't necessarily play sincerely considering she's not really portrayed as a woman adrift or in a down spiral. She has, after all, accomplished what many writers have set out to do by publishing a novel, albeit an unenthusiastically received one. The silver lining, which Rey gets to in a pair of authentically scripted and poignant scenes in its final frames, is an epiphany where she leans into allowing herself the opportunity to grow and do better.
The cast of twentysomethings, all familiar thanks to previous film credits, are briefly utilized, while Jemaine Clement plays a character defined by cliché. Certain tangents, such as a sequence involving the mother of Hugo's (Josh Wiggins) character and what amounts to a lackluster breaking and entering, play like flaccid attempts at slapstick.
If this is a novel chance for Jacobs to lead her own narrative (though one should definitely check out Susanna Fogel's Life Partners, 2014), one wonders when her co-star Zoe Chao will receive a similar opportunity, defined once again as plucky supportive bestie, friendly but banal.
★★/☆☆☆☆☆