They All Fall Down: De Palma Dallies in Inert ISIS Thriller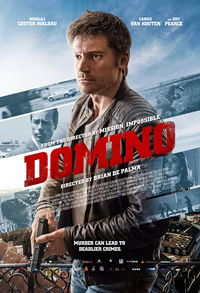 It's hard to believe Domino, the latest film from legendary director Brian De Palma (ending a seven-year hiatus following 2012's Passion –review), was part of the rumor mill as possible contender to premiere at the 2018 Cannes Film Festival. Fast forward over a year later, with De Palma recusing himself from the film's release following charges of the film's producers taking the project away from him and releasing their own cut, and what's delivered is a risible, internationally diluted neo-noir which resembles a made-for-television cheapie from the 1990s. True, De Palma's signature, albeit woefully faint, is apparent in several set-pieces and a handful of visually arresting shots, but this is hardly a return to form for the director, and likely wouldn't have been salvageable in whatever format judging from its well-intentioned yet feckless screenplay which should have been filmed in native Danish, and could have at least sidestepped the cultural ambiguities which further the sense of displacement and inauthentic developments.
Copenhagen cop Christian (Nikolaj Coster-Waldau) is a good-natured cop who seemingly enjoys his profession, as evidenced by his brotherly affection for partner Lars (Søren Malling), whose wife (Paprika Steen) also adores him. Unfortunately, during an anonymous late-night tryst, Christian leaves his service pistol in his apartment when he's called upon to apprehend Ezra Tarzi (Eriq Ebouaney), a former soldier who's joined ISIS. When their altercation leads to Lars being severely wounded, Christian's capabilities are questioned. Alice (Carice von Houten) is brought on board to assist Christian as they tail Tarzi, who after being captured is used by a snippy CIA agent (Guy Pearce) to lead them to ISIS employer Al-Din (Mohammad Azaay, uttering and embodying a barrage of stereotypes) while his own children are held hostage. As Alice and Christian deal with domestic dilemmas regarding Lars, Al-Din's cell unleashes bloody rampage at a film festival, with future plans for even more devastating violence in Copenhagen.
In many ways, Domino feels similar to Paul Schrader's equally maligned Dying of the Light (2014), also a project yanked from the hands of its director and cobbled together by tone deaf producers. One can see the elements which attracted De Palma to the project, however, which explores similar post-9/11 motifs which informed his 2007 Silver Lion winner Redacted.
A prolonged and often laughable set-up reaches a grand climax at a sporting event, collapsing its multiple perspectives similar to past public event showdowns, from the iconic prom sequence of Carrie (1976) to later period exercises such as Snake Eyes (1998). Scripted by Norwegian screenwriter Petter Skavlan, who penned the 2012 adaptation of Kon-Tiki (and Daniel Espinosa's planned remake of Jan Troell's The Emigrants), the film features many standard clichés of the Nordic Noir, outfitted with topical terrorist catch phrases and a roundabout passage to exemplify the horrific aims of ISIS and their manipulation of media to glorify their grisly handiwork.
What's curious is how Domino features actual Danes (albeit speaking English) and still feels completely removed from reality, including lead Nikolaj Coster-Waldau (of "Game of Thrones"), Søren Malling (Tobias Lindholm's A Hijacking, 2012) and the celebrated Paprika Steen in a throwaway role as a frumpy, crippled hausfrau.
Dutch actress Carice van Houten (also of "Game of Thrones" and Verhoeven's Black Book, 2006) is a fitting archetype for De Palma—if only the tangential dramatic subplot she's wrapped up in wasn't so insipid (and also positions her as a woman who can't ever get a grip on her emotions despite the presumable training her profession requires). Her developing rapport with Coster-Waldau leads them to some awkward exchanges, such as her character's grand reveal explaining her intense interest in the case. And then toss in Guy Pearce as a CIA agent gnawing through standard dialogue, which forces Ebouaney (who also appeared in Femme Fatale, 2002) to scream at his inquisitor to demand if he had children or not.
De Palma utilizes Spanish DP José Luis Alcaine, the famed cinematographer utilized by Pedro Almodovar (including on his most recent lavish visualization, Pain and Glory), but one would hardly guess it. There are several glorious hints at what could have been a De Palma beauty, especially during its opening scenes, such as an extreme close-up on Ebouaney with the doomed Malling framed in the background. But by far the best, and most cohesive element of Domino is another moody score from Pino Donaggio, who regularly scored De Palma's films, from Carrie to Raising Cain (1992), resuming their partnership on Passion (2012). Unfortunately, Domino is a silly, throwaway film which some unenthusiastic, and at times embarrassing performances from its notable cast members. In the same breath, however, it's still better than The Snowman (2017).
★/☆☆☆☆☆