Misery Loves Company: Spencer Reigns Supreme in Bizarre Portrait of Madness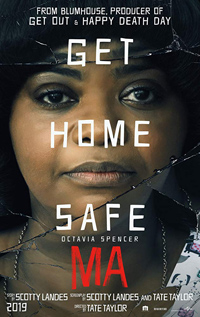 "Hell hath no fury like a (black) woman scorned," could have been a fitting tagline for Ma, a discomfiting horror film which reunites Octavia Spencer with director Tate Taylor, who directed her Academy Award winning performance in 2011's The Help. An odd, and at times ruefully playful exercise displaying the potent aftereffects of racially charged trauma, it's a film which is perhaps only intended as a successor to something like Misery (1990), wherein an aged harridan simultaneously engages in warped degrees of wish fulfillment and violent carnal vengeance on a community which disdains her. A screenplay from Scotty Landes seems to channel the archetype of a Stephen King narrative (had the prolific horror writer deigned to create a narrative with a black female protagonist), despite careening off its deranged rails in a third act which navigates an uncomfortable line of vilification and sympathy.
Maggie (Diana Silvers) and her mother Erika (Juliette Lewis) leave behind San Diego for rural Ohio as a means to live more comfortably. As mom and daughter struggle in their new environments, with Erika struggling to stay positive having returned to the small town she grew up in, Maggie is absorbed by a quartet of teens who quickly confirm there's little to do there besides drink and party. In an attempt to procure liquor one afternoon, they are introduced to Sue Ann (Octavia Spencer), a lonely woman who works as a veterinary assistant. Sue Ann becomes immediately and intensely interested in the five friends, buying them liquor and inviting them to party in her basement at her remote house outside of town. Soon, the newly coined "Ma" is a party Svengali, her basement packed every night with inebriated teens. But slowly, Ma's interest in Maggie and her friends begins to reveal itself…
While Ma operates as narrative wherein the sins of the father are visited upon the children (which isn't a well-kept secret once Sue Ann starts experiencing high-school flashbacks) her own arrested development thanks to trauma experienced by a cruel high-school prank is cause for ripe discussion. Residing on the outskirts of the small community which has wronged and isolated her, like some kind of brooding witch, it seems unlikely Sue Ann wouldn't have had a reckoning (or at least a run-in) with some of these characters earlier than the present situation dictates. Meanwhile, her fixation on and attraction to whiteness provides the film with deeper subtexts than its popcorn narrative structurally supports, which includes a vicious portrait of cyclical, trauma-informed abuse and an interesting portrait of systemic racism. As more and more is revealed about Sue Ann, one conjures images of how black children were conditioned to celebrate white standards of beauty—Sue Ann was likely a child reared on playing with white dolls, desiring to look like them. A near throwaway comment in her childhood flashbacks includes a comment about hair, wherein she compliments her white love interest's hair and he responds in kind with a facetious inflection.
If we're to believe Sue Ann never got over what happened in high-school, which finds her reveling in the pop culture of her youth, as indicated by the soundtrack, yet obsessed with and creeping into social media as a distraction from her humdrum job working in a vet clinic (her The Help co-star Allison Janney appears as her exasperated, heartless boss), this chance opportunity which devolves into chaos doesn't appear to make as much sense. However, Octavia Spencer gives an achingly heartfelt performance of a woman ruined by loneliness who morphed into a social monster.
Taylor often skirts around the implications, but the high school flashbacks are intensely chilling with the young Sue Ann (Kyanna Simone Simpson) surrounded by a gaggle of white teens plotting to do something. Spencer gets her over-the-top moments (a gamut of cuts to her shifting facial expressions would make for a welcome montage), but she grounds Sue Ann, despite the violent devolution. Beyond the eventual inevitable predictable solution to her mayhem, she remains sympathetic and poignantly human—her personal inflictions of pain reflect a human fed on self-loathing from a culture and community who could care less about her. If Stephen King's Carrie were black and had lived to adulthood, what might she have grown into?
Taylor, whose first hits The Help (2011) and the James Brown biopic Get On Up (2014) suffered from Hollywood whitewashing of black narratives, finally attempts to subvert this perspective in Ma, which might not always be successful, declawing itself in the violent villainy of Sue Ann. For a film of its ilk (especially compared to Taylor's other film, the half-baked pulp The Girl on the Train, 2016), Ma features likeable supporting characters and performances. Diana Silvers, as Ma's adolescent foe, brings an authenticity to teen portrayals often lacking. The narrative also attempts to showcase an intergenerational shift—Diana, unlike her mother, has grown up in a world which extends sympathy for the 'racial other.' Likewise, Juliette Lewis finds some potency in a role which could have easily been a throwaway performance. Besides Janney, Luke Evans and Missi Pyle provide comic relief as exaggerated caricatures of malevolent, repulsive whiteness.
★★★/☆☆☆☆☆