A Brooklyn Baby: Crowley's Simple Immigration Tale Buoyed by Strong Emotional Core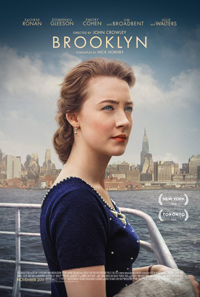 Director John Crowley returns with Brooklyn, his strongest film in years, based on the well-received novel by Colm Toibin, and adapted by the respected pen of Nick Hornby. Recalling the emotional prowess of his 2007 film, Boy A, which similarly focused on the perspective of a lone protagonist, Crowley captures an expressive and emotional performance from Saoirse Ronan, weathering the simplicity of the sturdy narrative like a dependable, all-purpose frock. A host of well-known supporting players enhance the crowd pleasing tendencies, though sometimes in its lighter moments the films jumps the rails and slams into overdone sentiment or desperate humor. But the moments are fleeting, and quite forgivable considering the poise with which the film navigates the emotional arc of its lead character.
In 1950s Ireland, Eilis Lacey (Ronan) is able to secure a placement in a boarding house in Brooklyn through the lobbying of her older sister, Rose (Fiona Glascott), who wishes a better life for her sister, as there's not much opportunity at home. With the help of Father Flood (Jim Broadbent), who secures her a position in a popular department store, Eilis is also looked after by the warm Mrs. Kehoe (Julie Walters), the stalwart landlady. At first hopelessly homesick, an unexpected romance develops between Eilis and an Italian-American, Tony (Emory Cohen), who explains that intermingling between different subcultures is unheard of—but he has a thing for Irish girls. Romance blossoms, and just as everything seems to be coming up roses, a tragedy back home sends Eilis back to Ireland, and it's now deemed fitting that Eilis settle with a nice Irish lad to make a home, with Jim Farrell (Domnhall Gleeson) making his interests known as the prime candidate. And so, Eilis does find herself attracted to the gentlemanly native suitor, yet her heart has been promised to another. But saying goodbye again means she would also be choosing another country and culture, perhaps permanently.
Brooklyn evokes a spirit of filmmaking from the time its set rather than it convinces of the actual era. Crowley's 1950s seems more of a burgeoning utopia, no mention of WWII unpleasantness behind or the encroaching Red scare ahead seem to be noticeably afflicting anyone. Likewise, besides escaping her bitchy old crone supervisor back home, Ireland seems picturesque and maybe mildly archaic, yet the effects of WWII on the workforce hardly register. But we're quickly swept away in this affectingly escapist yarn thanks to a subtle and endearing performance from Ronan. Her romance with an equally captivating Emory Cohen also recalls the kind of warmly attenuated cinematic romances of long gone era. Though he's known mostly for his role as Bradley Cooper's son in The Place Beyond the Pines, his range in other indie fare, such as 2012's Four, hints at an impressive range.
Julie Walters nabs a cubby of laughs as the acerbic landlady, and though their roles are small, Eve Macklin and Nora-Jane Noone are fine accents as other members of the boarding house. But the magic is lost at certain moments, especially when featuring performers like Emily Bett Rickards as one of the housemates, and Eilis' supervisor at work played by Jessica Pare, both uttering lines with a wooden, rigid affect. Likewise, scenes with Tony's Italian family, featuring a rascally young brother, somehow makes Marty's stereotyping seem subtle. But these passing moments get swallowed by the emotionally gratifying principals and some beautiful cinematography from French Canadian Yves Belanger, rivalling his work on Laurence Anyways (not to mention his regular collaborations with Jean-Marc Vallee), intoxicating us in a sea of gentle greens of the Irish seaside, Ronan's expressive eyes in several luxurious close-ups, a host of interior shots, and a complimentary bathing suit. Brooklyn may be a sweeping romantic fantasy, the kind we would have seen Jennifer Jones unsuccessfully buy her way into had this been made in the era its set, but it's one you'll enjoy getting wrapped up in.
Reviewed on January 26 at the 2015 Sundance Film Festival – Premieres Program. 105 Mins.
★★★/☆☆☆☆☆