But When She Was Bad, She Was Awful: Milott & Murnion Subvert Allegiances in Violent Thriller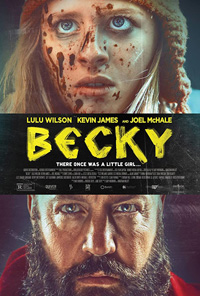 The innocuously titled Becky is the third feature from co-director Jonathan Milott and Cary Murnion and as it arrives in the midst of a country suddenly forced to acknowledge its systemic racism and trenchantly racist history, one wonders if its filmmakers would have changed its title to Karen had they written it today. Because Becky, as we eventually come to find, is certainly not the innocent little white girl we expect.
But beyond its obvious violent spatter which announces its 'heroine's' penchant for violence and talents for killing, the script, penned by Nick Morris, Ruckus Skye and Lane Skye, ends on a note of perilous, ambiguity which completely subverts our understanding of what the film might really have been all about. Who is this teen killing machine whose survival we inevitably question our allegiance to?
Becky (Lulu Wilson) has had a hard go of things. Her mother having recently passed from cancer, she's suddenly forced into a summer getaway at the family cabin with her dad (Joel McHale), his new fiancé Kayla (Amanda Brugel), who just so happens to be a Black woman, and her young son Ty (Isaiah Rockcliffe). Upon announcing their impending union, Becky takes the dog and absconds to her old fort in the woods. In her absence, four escaped convicts led by Dominick (Kevin James) arrive at their doorstep. A key had been hidden in the home some years prior by Dominick, a key which will unlock his ability to carry out some sort of devious, racially charged plans.

Although Becky starts off a bit rocky, especially with the early, cliched banter between Wilson and her oblivious father played by a distracting Joel McHale, it sinks into a rather compelling game of cat and mouse despite the predictable plot structure. It's Home Alone meets Funny Games, but neither as comical as the former or anguishing as the latter. Casting also upends subversions, with Kevin James as you'd never imagine to have seen him, a somewhat demure but altogether imposing white supremacist in search of the film's McGuffin, a mysterious key which we can only imagine unlocks some sacred Pandora's Box of racially motivated subjugation.
Wilson becomes a formidable presence, segueing from whiny angst to impressive survivalist. But between all these white people are two other characters, the mother and young son played by Amanda Brugel and Isaiah Rockcliffe. If you aren't chilled by how the film ends and the resulting suggestions and implications, watch it again. And look (and listen) more carefully.
★★★/☆☆☆☆☆