Where Have All the Flowers Gone?: Meddour Goes Back to Black Decade with Debut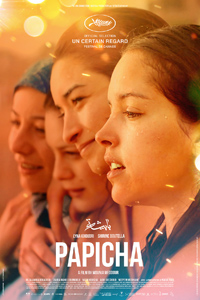 Fashion is certainly far from one's mind when dealing with the atrocities of civil war, but such is the entry point for director Mounia Meddour's solid directorial debut, Papicha, which means 'pretty girl.' Set in 1997 Algiers in the midst of the Algerian Civil War (otherwise referred to as the Black Decade), which transpired from 1991 to 2002, a young woman coming of age rebels against the trenchant misogyny of the period to stage a fashion show, which is regarded as a dangerous political statement.
Strong performances, including from lead Lyna Khoudri, go a long way towards enlivening Meddour's film with an intimacy which is sometimes hobbled by ever widening clichés to enhance the tragedies of its finale.
In 1997 Algiers, university student Nedjma (Lyna Khoudri) dreams of being a clothing designer. A rebellious spirit, she goes to extreme and dangerous lengths with her friend and schoolmate Wassila (Shirine Boutella) to sneak off campus and sell garments in night club bathrooms. But since she's found a way to explore her creative outlet, Nedjma isn't so discontented as to want to leave Algiers. But increasingly, growing restrictions against women and violent extremism begins to thwart her daily life. As she begins to plan a fashion show at her school utilizing a traditional Algerian garment known as the haik, which covers the entire body, tensions boil over into violence.
The glaring frustration of how women are treated, denied agency over their lives, their bodies and their thoughts, is where Papicha feels most potent, harnessing advocacy and cathartic rebellion in the visage of Nedjma. At the same time, Meddour's quieter moments between Nedjma and her friends Wassila and Samira (Amira Hilda Douaouda) allow for some necessary reprieve from the horrors of their reality in ways which allow for the eventual violence to be more numbing than visceral. This is partially due to a lack formatting the psychological trauma Nedjma experiences, particularly with the brutal murder of her friend Linda (Meriem Medjkrane), the aftershocks of which are given short shrift.

Still, Papicha feels like a necessary examination of a country's horrific past as well as a salve for how Western depictions downplay the violence against women in such climes (think of the tone deaf tangent in Sex and the City 2, where the famed American characters infiltrate a group of women in Abu Dhabi putting on a secret fashion show). And while its finale ultimately feels like a cop-out as regards its strong-willed heroine, Khoudri and her character's resilience remain a pleasure to behold.
★★★/☆☆☆☆☆