She's Pure as New York Snow: Bourgeois-Tacquet Charms in Effortless, Effective Comedy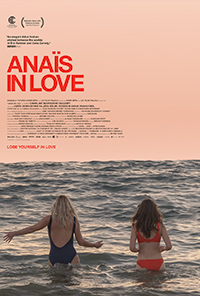 With her unexpectedly charming debut, Anaïs in Love, director Charline Bourgeois-Tacquet presents the kind of wild child heroine who once was used as a cautionary tale about aimless young women in the city. In the facile tradition of mid-1980s Eric Rohmer classics, where Marie Riviere or the late Pascale Ogier stumbled onto romance, Bourgeois-Tacquet taps the talents of the winsome Anais Demoustier (who startlingly recalls the essence of early 1980s Isabelle Huppert) for her equally transfixing and anxiety inducing lead.
Starting and ending in a whirlwind of energetic fervor, she's a forceful tornado of a character who you want to follow the exploits of beyond the end credits. Paired with Valeria Bruni Tedeschi in one of her most likable recent roles, the two women create an intoxicating energy. Bourgeois-Tacquet becomes an instant director of interest with a film impossible not to develop a crush on.
Anais (Demoustier) is thirtysomething and a bit unhinged. Stagnating on her thesis and two months behind in rent, she throws herself into romantic situations merely for the point of distraction. Pregnant by her recent boyfriend, whom she doesn't seem to be particularly fond of, she visits her parents (Anne Canovas, Bruno Todeschini) only to find her mother's cancer has returned. After terminating her pregnancy, she dives headlong into a sexual affair with Daniel (Denis Podalydes) an older married man. The liaison quickly reaches an endpoint, but not before Anais reads a novel published by his wife, Emilie (Valeria Bruni Tedeschi), a noted author. Convinced Emilie shares the same intellectual wavelength as herself, she inveigles herself into the woman's orbit, visiting her on a private writing retreat. Emilie finds herself taken by Anais and just as their attraction promises to bloom, Daniel shows up for a visit.
Anais is a young woman cut from the same cloth as Renate Reinsve in the celebrated The Worst Person in the World (2021)—indecisive, distracted, and maybe a bit emotionally fickle thanks to an inherent inability to get her shit together. We're introduced to her distracting an impossibly patient landlady by twirling around like a loquacious tumbleweed before it's confirmed Anais' life is basically one shambolic episode after another. Part of her distraction might be her mother's cancer relapse, which Bourgeois-Tacquet navigates empathetically.
Anais' love for Marguerite Duras, specifically the novel The Ravishing of Lol Stein, which showcases both a differentiation between mother and daughter, but also a key to her eventual intoxication with Emilie, provides a magical, romantic lining. The prolific Denis Podalydes (who also got to romance Lea Seydoux last year in Desplechin's Philip Roth adaptation, Deception) is another stumbling/stepping stone for Anais which leads to her sexual and romantic awakening with the gentle, amusing Tedeschi (this is much more winning lesbian relationship than the shrill portrait she shared with Marina Fois in Catherine Corsini's La Fracture, 2021). Their romance is one of gesture, longing exchanges, and eventually the most magical use of Kim Carnes' track "Bette Davis Eyes."
A third act depicting their long-distance romance is the stuff of classic romantic literature, with delicious observations courtesy of the elder lover's wisdom. "Waiting can be just as delicious as what you wait for," Emilie writes Anais. Eventually, the barriers of their lives and the logistics of a meaningful affair create the rationalization which has ended many a queer love romance, requiring a world, a circumstance "outside of time." But darling Anais does what she does best with a moment bookending how we met her.
Demoustier, whose work remains mostly lauded in France, is a gust of fresh air in a scenario which could easily be classified as familiar—and on paper, it is. We've seen this film before, we've seen these illicit romances blossom. And yet, much like Christophe Honoré's Love Songs (2007), Bourgeois-Tacquet taps into the resplendent beauty of human experience which the rendering of is life affirming.
★★★½/☆☆☆☆☆