On a Magical Night | Review
A Room with a Screw: Honoré Waxes Playful on Marital Discord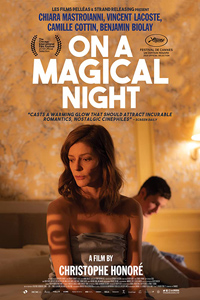 The flexibility (or lack thereof) of fidelity in heteronormative relationships is at the center of Chambre 212, the latest from Christophe Honoré. While the English language title On a Magical Night turns out to be a rather trite approximation of the film's playful attitude on strenuous universalities regarding monogamy, there's palpable levity afforded an otherwise stagnant scenario, even as Honoré reverses the gender perspectives we've become accustomed to. Playful and buoyant, there's a wonderful effervescence courtesy of a standout lead from Chiara Mastroianni, a regular muse of the director, making her first reappearance since 2011's Beloved.

Chambre 212 follows on the heels of Honoré's dour Sorry Angel, a 2018 gay melodrama about another challenged couple attempting to navigate certain social norms which challenged their courtship. While different in tone, this more fanciful projection operates on a similar level, as marital stagnation leads to a curious and literal return to their past as a way to reclaim and reiterate their bond.
Mastroianni is formidably entertaining here as Maria, from a dynamite opening sequence in the dorm room of her collegiate lover (Harrison Arevalo), to strutting her way down Parisian streets as she arrives for dinner at her posh apartment shared with her husband Richard (Benjamin Briolay) of twenty-five years (they live above a seven screen cinema, prominently showing the latest Francois Ozon film and oddities such as the fittingly titled WarGames, 1983). Briolay works well as her frumpy counterpart, and their immediate tête-à-tête regarding her infidelity vibrates with authenticity, leading her to abscond to the hotel next door, wherein she rents the eponymous room where she can spy on her husband.
What follows is a rather novel enterprise which is at first highly entertaining. Vincent Lacoste shows up as the younger version of Briolay, followed by the current version of Irene (Camille Cottin) his ex-lover and piano teacher with whom he carried on an illicit affair from the age of fifteen to twenty-one, broken off by his engagement to Maria. Cottin scores some early chortles as a woman eager to rekindle her romance, bustling off next door to test him. Meanwhile, Maria revisits figments from the past, present and future, including dead relatives and old lovers which allow her to reflect on her current state of affairs.
While initially entertaining, Maria's cavalcade of lovers quickly wearies the film's energy, as do a variety of asides which detract from Richard and Maria reconnecting throughout the night's antics. Too much time gets spent on Cottin, even as it allows a sole sequence featuring Carole Bouquet as Irene's droll future self. Lacoste, who seems to have assumed the slot often filled by Louis Garrel in Honoré's films (returning from Sorry Angel) revels in playing pouty, which also taxes rather than enlivening. But as a showcase for Mastroianni, Chambre 212 might be Honoré's best role for her yet.
Reviewed on May 19th at the 2019 Cannes Film Festival – Un Certain Regard, 90 Minutes
★★★/☆☆☆☆☆