The Day Shall Come | Review
Fooling the Children of the Revolution: Morris Returns with Dark, Political Satire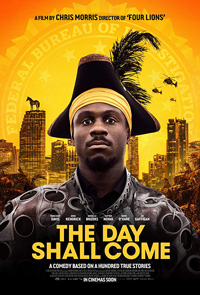 Stakes are perhaps too high for writer-director Christopher Morris's sophomore film following the success of his provocative terrorist comedy Four Lions, one of the best films of 2010, which is perhaps one of several reasons why it's taken so long for a follow-up feature. Arriving nine years later is The Day Shall Come, an equally perverse portrait of our modern corrupt world.
Another reason for the lengthy delay (besides his contributions to "Veep") might be expectation, both for how much further Morris could push absurdist boundaries under the guise of so-called good taste as well as who the intended audience should be, something which makes his latest a unique marketing challenge. Regardless of these banal business model trappings, his latest is no less determined to frustrate with its steely cabbage patch of bumbling fools embarking on nonsensical missions which create irreparable consequences and dire realities for those caught in the crosshairs. Oh, and Morris presents one of the year's best onscreen debuts with the incredibly likeable Marchánt Davis, who often elevates Jesse Armstrong's endlessly cynical screenplay into the Kafkaesque ballad it operates best as.
Moses (Davis) is the poverty-stricken leader of a small Hebrew Israelite community in Miami, tending a small vegetable farm alongside his wife Venus (Danielle Brooks) and their young daughter. Moses also suffers from some schizophrenic tendencies when he's not taking his medication, convinced God and sometimes Satan correspond with him through animals or small local events. He's been noticed by FBI agent Kendra Glack (Anna Kendrick) thanks to some anti-establishment social media posts, and when Moses becomes evicted from his home, she uses the opportunity to have her undercover agent (Kayvan Novak) sell Moses and his group of four followers weapons of terrorism and then use the sting to further her own career. However, she doesn't expect Moses' resistance and some choices which highlight the dubiousness of her orchestrated scenario.
Filmed in secret in the Dominican Republic in 2017, one doesn't have to be familiar with Four Lions as one can predict the beats and tone of The Day Shall Come from its plot synopsis. White audiences without a sense of humor will likely avoid presentations which present an inescapable truth about themselves or their institutions, however absurd or not, while people of color will have to weigh their desire to consume another portrait of their blatant victimization (as a comedy, at that), which Morris presents with a bluntness cutting into the final credits (spoiler alert—if there's one great surprise, it's the casting of the often catty but always eventually empathetic Anna Kendrick, whose presence defies our expectation of the white savior).
At the same time, Jesse Armstrong (Academy Award nominated for his 2009 screenplay In the Loop, directed by Armando Iannucci) tries, often unsuccessfully, to bridge a difficult divide between his juxtaposed clutches of characters. The FBI and Miami police are fashioned in the same jarring doltishness of those Loop characters, but often their dialogue (especially early exchanges between Kendrick and Denis O'Hare) seem a bit dated, a touch archaic and sometimes a bit too obvious (such as a brief, flippant passage about an unmarked white man vs. an unmarked black man). It's not so much we need to have any real pity built for these monsters, but it's difficult to be funny (or maudlin) and witty when dealing with such banality of evil (although Iannucci's 2017 The Death of Stalin manages this quite successfully despite its period trapping and Anglophone presentation).
The difference is sometimes tonally jarring when we're confronted with the affable characters of color, particularly any onscreen moment featuring Davis and Danielle Brooks (of "Orange is the New Black," who is quite refreshing as a sympathetic figure). The same goes for Kayvan Novak, who was Riz Ahmed's dingy brother in Four Lions, here one of the FBI's many pawns. Another outlier is Jim Gaffigan, somewhat unnecessary as a blatant, red-neck Nazi trying to buy uranium from Moses.
Shades of Nightcrawler (2014) might come to mind in Morris' scenario, but perhaps most compelling is how The Day Shall Come compares to a failed black comedy directed by William Friedkin in 1983, the box-office bomb Deal of the Century, which starred Chevy Chase and Gregory Hines as a pair of arms dealers who negotiate the sale of an experimental military plane to a South American dictator at the same time as the rebels. Granted, Morris' film is much edgier and more streamlined, but the sense of sickly frustration remains the same in the final credits.
★★★½/☆☆☆☆☆