The Golden Glove | Review
No Glove No Love: Akin Revels in Garish Grotesqueries with Squalid Period Piece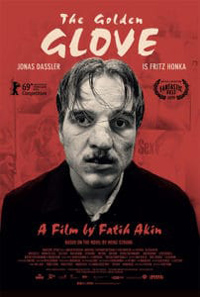 Turkish-German director Fatih Akin resurrects the obscure German serial killer Fritz Honka in the grotesque 1970s set The Golden Glove, an exercise clearly designed to disgust, assail and repulse. In these terms, it is the director's most effective exercise to date, a formidable gut punch and a far cry from the topical proselytizing of his homegrown terror drama In the Fade.
Based on a 2016 novel by Heinz Strunk, Akin paints a portrait of a madman whose crimes flourished in the squalid red-light district of 1970s Hamburg, brutally raping and murdering a number of prostitutes over several years before his neglectful disposal of their dismembered bodies finally brought his killing spree to an end. Incredibly graphic and extremely violent, Akin purposefully pushes the boundaries of good taste, a provocation which tests its audience's willingness to experience a grueling level of misogyny and carnage. But again, this is the portrayal of a social outcast turned serial killer, cultivated and enabled by an environment of significant degradation. Perhaps such crimes are not meant to be experienced in such visceral detail, even in art-house torture porn which will either haunt or desensitize its viewers. And yet, despite its incredibly brutal scope, Akin conjures an intense level of empathy for not only the victims, but the wide array of broken-down denizens whose stories and emotions have been eroded or eclipsed by our exaggerated interest in perpetrators.
Unskilled laborer Fritz Honka (Jonas Dassler), who has an unfortunate visage thanks to a severe lazy eye and a skin condition due to 'cement scabies,' has a bad habit of wooing older prostitutes to his Hamburg flat after nights of heavy drinking at local dive bar The Golden Glove. However, he usually brutally rapes, kills and dismembers them before the night is through. Their body parts stuffed in the attic wall, Honka blames the Greek family's cooking in the flat below for the stench. Until, of course, evidence of his actions can no longer be contained.
Many will likely ponder the necessity of a film like The Golden Glove, which doesn't so much explain the psychology of Fritz Honka but rather the culture he grew out of. It's a marked departure from English language portraits of serial killers (take, for instance, the highly sanitized portrait of Ted Bundy in this year's Extremely Wicked, Incredibly Evil and Vile, which focuses primarily on the attractiveness and charm which made him so particularly fascinating) and feels more akin to Lars Von Trier's controversial The House That Jack Built, at least in its level of brutality.
But the transformative performance of Jonas Dassler as Honka, and several of the women playing his unwitting, down-and-out victims (particularly an effective Margarete Tiesel) aligns with the depths of social degradation mapped explicitly by New German Wave enfant terrible Rainer Werner Fassbinder, an auteur who was in his most prolific period during Honka's active years. Like Fassbinder's filmography, Akin navigates a characterization of an incel posterchild.
We glean about as much of Honka's background as we do the women he abuses and murders, all of them broken by social traumas. Holocaust survivors, prostitutes, drug addicts and all sorts of abandoned pariahs are among the drunken coterie at The Golden Glove. A subplot involving two teenagers who are titillated by what they will find there ends in some tangential degradation—and it's here we are united with these ciphers, for as audience members, we cannot expect to satisfy our curiosity without being tainted by what we see there.
Disgusting, agonizing and incredibly repellant, there's no doubt Akin succeeds in jarring his audience out of passive submission, though it's a discomfort not many may welcome. Besides a dazzling performance from Dassler, who arrives like a monster out of a nightmare, lurking in the shadows of his own desires (the mood and tone are reminiscent of Kurt Raab in Ulli Lommel's 1973 film The Tenderness of the Wolves), Rainer Klausmann's cinematography and Tamo Kunz's production design are owed applause. The Golden Glove isn't just a film filled with visual recoils, but the significant textures of squalor, particularly Honka's attic flat, so vibrantly repulsive it goads olfactory responses.
Reviewed on February 9th at the 2019 Berlin International Film Festival. Opening Night Film – Competition. 110 Mins.
★★★½/☆☆☆☆☆