Apples | 2020 Venice Film Festival Review
Blight of My Life: Nikou Finds Meaning Through Its Absence in Exceptional Debut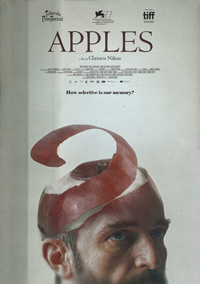 Somewhere along the way, the Greek Weird Wave has seemingly evolved from weird to wise, at least if Apples, the directorial debut of Christos Nikou, is any indication. Having served as second assistant director on Lanthimos' Dogtooth (2009), the title which generated an influx of new, offbeat cinematic innovations from Greece, Nikou presents a dark satire which plays like a prophetic telegram of not only current cultural identity crises, but in an existential sense, seemingly invisible forces which decimate our lives as we know it.
A bit warmer and empathetic than the cold behavioral oddities of Lanthimos, Avranas or Babis Makridis, Nikou posits identity as something which is also rooted in our collectiveness, for without connectivity, we might as well be invisible.
A disturbing worldwide pandemic erases people's memory to the extent they suddenly forget who they are. The ensuing chaos has forced the initiation of the Disturbed Memory Department at hospitals, but since there is no cure or recovery from the ailment, many people suffering from it remain unclaimed. In Greece, middle-aged Aris (Aris Servetalis) is struck with the disease while on a bus. Carted off to the hospital, he languishes a while before shuttered off into the "New Identity" program, in which he will be instructed to engage in a variety of activities and then take Polaroid pictures while doing so to measure responses and progress. One night, he meets Anna (Sofia Georgovassili), also suffering from the disease. They gravitate toward one another. Could it be the start of a brand-new life together?

While narratives of worldwide pandemic may not be the most appealing form of entertainment currently, Apples is more interested in examining loss of life metaphorically, what happens when our identities and personalities are wiped clean. There's a certain romantic silver lining to a 'do-over,' which sort of supplies the juice for Aris' journey.
Not unlike the infectious ennui which alienates the clutch of characters in Amy Seimetz's recent She Dies Tomorrow, this disease or condition is spread almost sporadically, and seemingly has no cure. The lucky ones have relatives who will come fetch them, identify them, attempt to recuperate them. But what of those people who have no one to retrieve them? Or, worse, those whose relatives dislike or despise them?
It's a potentially harrowing scenario for vulnerable populations, and one could see this narrative playing out more drastically for those forced to life's peripheries. Instead, it's an exercise somewhere between the impenetrable enigma of Kira Muratova's The Asthenic Syndrome (1989) and David Mackenzie's underrated loss-of-the-senses pandemic romance Perfect Sense (2011). The stoic Aris Servatalis, the lead from Makridis' L (2012) as well as one of the colorful cast in Lanthimos' ALPS (2011), gives a mournful turn as a man resigned to his fate revived through what he believes to be a romance with Anna.
An exercise in what potentially constitutes our ability to remember or define memory, Apples also suggests a link between music and the channeling of emotions. The "New Identity" program in which unclaimed amnesiacs are entered into, apparently indefinitely, finds participants engaged in activities supposedly designed to generate connections with their past life while building a new one.
Pleasure, empathy, and confronting fears seem to be some of themes suggested by the program, recorded on tape by a doctor who sounds an awful lot like Andre the Giant. Aris' apparent fascination with the titular fruit is also a consistent motif, both as an item synonymous with thoughts on health (an apple a day keeps the doctor away), or how it's rumored to help with memory, and also a key facet of the Adam & Eve tale from Christian mythology as the fruition of knowledge—in essence, what Aris is trying to regain.
Complex word association games recall the perversion of language and meaning from Dogtooth, and an opening sequence featuring "Scarborough Fair" perhaps holds the key for the romantic ordeal Aris goes through with Anna, each going through a series of tests, while one of them mistakes this for actual emotion. It's this exercise which may seemingly reawaken part of his memory, for what is memory without the emotional response it conjures?
Reviewed virtually on September 2nd at the 2020 Venice Film Festival. Orizzonti (Horizons) Competition – 90 Mins
★★★½/☆☆☆☆☆