Two Kilos for Sister Sara: Eastwood Delivers Drugs and Good Deeds in Character Drama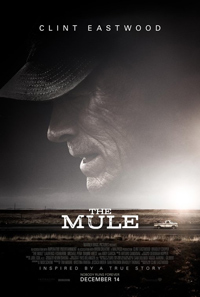 In a role perfectly suited for him, and in what may inevitably stand as the legendary actor/director's final starring role, 88-year-old Clint Eastwood delivers one of his better efforts from his extensive later period of filmmaking with the based-on-a-true-story The Mule (inspired by a New York Times Magazine article by Nick Schenk).
At its baseline, Eastwood's latest concerns everyone's innate ability to change for the better, even within instances where poor choices or troubling circumstances push people towards a wayward path. In the same breath, it's also a stellar example of how white privilege allows for considerable advantages in America's legal system and random encounters with law enforcement, something Eastwood seems to be clearly aware of and exemplifies in this tale of a 90-year-old white man who inexplicably begins to run drugs for a cartel and simultaneously makes amends with the estranged family he'd abandoned hopes of reuniting with nearly two decades prior.
As he enters his nineties, Earl Stone (Eastwood) is forced to leave behind his career as a horticulturist when lack of business forces him to shut down. It's a considerable blow since he sank his life's blood into it, which caused significant erosion with his ex-wife (Dianne Wiest) and daughter (Alison Eastwood), who has spent the last seventeen-years avoiding him at all costs. Only his granddaughter (Taissa Farmiga) bothers to stay in touch. When she invites him to a family gathering celebrating her recent engagement, family drama ensues…but Earl also finds himself headhunted to be a driver for a drug cartel thanks to his perfect record and his appearance. Before you know it, Earl is the cartel's most profitable asset, much to the joy of cartel head Laton (Andy Garcia). At the same time, a new Chicago DEA agent (Bradley Cooper) has made it his personal mission to apprehend the mule known as Tata.
Back in 2008, Eastwood's Gran Torino (also written by Schenk) was rumored to be his final stint in front of the camera. Those who have trouble with the ignorance of his Earl Stone in The Mule might need to revisit his egregiously racialized earlier title to realize the behaviors on display here showcase a more well-intentioned, equally anachronistic white man curious enough, at least, to listen to people of color. Carrying around his favored Spanish pet phrases he'd gleaned from working with migrant workers during his life as a horticulturalist doesn't quite suffice, which is why Eastwood includes a tangential scene wherein he helps a heterosexual black couple fix a flat tire. An awkward passage ensures wherein he refers to the couple as negro, inspiring a gentle but firm correction, ending in a beat probably meant to inspire a chuckle. Instead, it plays like Eastwood's way of showcasing his own 'growth' and perhaps the extent of self-awareness he cares to confirm about how an old white codger's peripheral involvement with a drug cartel, inspired by a newspaper article, is enough to inspire a major Hollywood production when there are countless untold narratives to be gleaned from other perspectives.
Eastwood works best here when he's on his own or sharing screen time with a handful of cartel related characters, perhaps most warmly with his American Sniper (2014) star Bradley Cooper, as the two have an obvious chemistry on screen (which is more than can be said for Cooper's exchanges with his boss, played by Laurence Fishburne, or his sidekick, played by Michael Pena, who are on hand solely for repetitive investigative type exchanges). Andy Garcia is entertaining as an old-school kingpin whose lackadaisical ways spell his doom for a younger generation of ruthless criminals. Among these, Ignacio Serricchio (The Wedding Ringer, 2015) stands out only because the script offers him a bit of characterization. But Eastwood populates his baddies with several noted character actors, such as the always underrated Clifton Collins Jr., and even more so, Lobo Sebastian, a menacing heavy who wields a glowering gaze and threatening swagger to intimidate the unpredictable Stone.
Family sequences (and some unfortunate musical cues), however, tend to grate. Eastwood's real-life daughter Alison Eastwood (remember all the to-do about making her audition for the role in his 1997 Midnight in the Garden of Good and Evil?) is instantly overshadowed by a chirpy Taissa Farmiga and an ornery Dianne Wiest (who fares the best of these) as his ex-wife.
In the pantheon of his directorial efforts, The Mule may be something of a mixed bag. And yet, it's also one of Eastwood's sincerest and heartfelt offerings, reaching some surprisingly melancholy heights as regards regret and missed opportunities to do the right thing. Compared to his earlier 2018 release, the experimentally staged The 15:17 to Paris, this is at least a return to Eastwood's particular craftmanship which allowed for the success of an American Sniper or 2016's Sully. As it stands, for Eastwood, The Mule might be something new, though for the rest of us it fulfills all the expected beats of its narrative.
★★½/☆☆☆☆☆