Seoul of the Matter: Vigalondo's Environmental Impact Creature Feature Unique but Wonky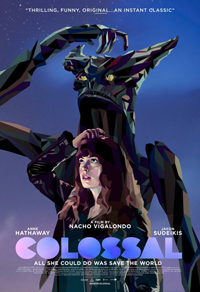 Spanish director Nacho Vigalondo scores major points for ambition and uniqueness in his latest sci-fi offering, the English language Colossal, which is headlined by some several notable cast members and is arguably the most worthwhile title from the director since his lauded 2007 feature debut, Timecrimes. A mixture of Godzilla style creature feature, (replete with the kind of environmental subtexts which underlined the original Japanese terror's initial iteration), and a rom-com character study slowly poisoned by toxic behaviors, it often seems like Vigalondo's idea desires to be too many things at once. The end result is a sometimes baffling whirlwind of clashing tones, all of which are influenced (or directly lifted) from vintage cinema, which also subdues the title's effectiveness of something wholly brand new vs. an evident yet captivating blend of familiar materials.
Gloria (Anne Hathaway) is an alcoholic party person, whose social transgressions have led her to be ousted from her swank New York apartment, where she lives with fed up beau Tim (Dan Stevens). With nowhere to go and no one to turn to, Gloria avoids destitution by retreating to her childhood home, a rural abode now vacant since her parents have left for another clime. Immediately, she reunites with childhood friend Oscar (Jason Sudeikis), now the happy owner of a local dive bar under a constant state of construction, where he parties nightly with friends (Tim Blake Nelson and Austin Stowell). Oscar has always had something of a crush on Gloria, so an uneasy flirtation leads to his hiring her as a waitress while she continues to struggle with bad decision making. Until Gloria realizes her actions directly correlate to the appearance of a formidable monster appearing at the same time every night in Seoul, South Korea, killing innocent people unlucky enough to be under the creature's gigantic frame.
What makes Colossal automatically seem half-baked is Vigalondo's explanation for why and how this is happening to Gloria and Oscar, their capability for transforming into monstrous behemoths in South Korea while strolling through a playground from their youth.
Based on the visualization provided, it would have behooved Colossal to simply leave this unaddressed rather than the silly, slapdash scenario Vigalondo outlines. Likewise, the character arc eventually revealed for Sudeikis is a bit impetuous to register as anything other than ludicrous. Although Colossal wouldn't feasibly be the type of film held accountable to this sort of logic, Vigalondo's focus on the emotional register of Hathaway's Gloria would indicate otherwise (not to mention the film's running time, bloating to nearly two hours when a much more efficient and fast paced development would alleviate a soggy middle portion bogged down by too many narrative aspirations). Worse, why the South Korean residents of Seoul don't simply evacuate an area where they might get stomped out by a giant monster, who appears nightly at the exact same time and place, also speaks to a lack of cohesiveness in a film that's merely an interesting idea and not actually a cohesive story of various but integral components.
As enjoyable as it is to see Hathaway in something so unpredictable, especially considering the oversaturation following a heavy Academy Awards campaign for Les Miserables (2012), her Gloria isn't much more than a snaggle of messy tics and snarls, a good time gal afraid of commitment for reasons we're unable to discern beyond perhaps a generational bent towards irresponsibility. Her trajectory with Sudeikis is a series of extravagant coincidences failing to make sense following any reasonable examination, and for a film demanding we let go of such narrative expectations, it precipitously calibrates itself for them despite itself.
★★/☆☆☆☆☆
Reviewed on September 17th at the 2016 Toronto International Film Festival – Vanguard Programme. 110 Minutes.