Jeannette: The Childhood of Joan of Arc | Review
The Passion of the Joan: Dumont Approaches Ecclesiastical Fervor in Musical Comedy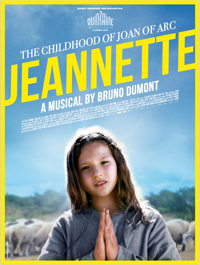 If cinema could approach the same sacred realm as any pre-ordained religious doctrine, then consider Bruno Dumont's latest fervent experience Jeannette: The Childhood of Joan of Arc one of the medium's holy vestments. Adapting two versions of a stage play by Charles Peguy, Dumont presents a wholly original rendering of the impassioned childhood of the titular historical figure whose visage has been plastered on film since the inception of cinema, with a cadre of international auteurs invoking the tragic end of the soothsaying French girl denounced as a heretic and infamously burned at the stake.
Ingrained in the mind's eye is the unforgettable performance from Maria Falconetti in Carl Theodor Dreyer's timeless The Passion of Joan of Arc (1928), while a number of icons have resurrected her, including Ingrid Bergman (for Rossellini), Jean Seberg (for Otto Preminger), Sandrine Bonnaire (for Jacques Rivette), Milla Jovovich (for Luc Besson), among many others. Dumont concocts a mixture recalling not only the austerity of Jean-Marie Straub and Daniele Huillet, but also the ascetically inclined Robert Bresson.
If these are lofty points of comparison, Dumont's musical theater inclined rendering of little Jeannette as a shepherdess (drifting through the same sand dunes so prominent in his 2016 slapstick Slack Bay) sweeping into her own pronounced, idiosyncratic sound of music (which ranges from free-form acapella to headbanging EDM), is on par with the auteur's increasingly eclectic and unpredictable output.
In the summer of 1425, eight-year-old Jeannette (Lise Leplat Prudhomme) tends to her father's sheep in the sleepy village of Domremy. The pious young lass sings passionately to god for an end to the Hundred Years' War and the victory of the French against the invading English. Confiding in her friend Hauviette, Jeannette believes she has been tasked by god to assist in liberating France from her enemy, as related via various increasingly nutty song-and-dance numbers. As years pass, Jeannette renames herself Jean (Jeanne Voison), and as she defies the wishes of multiple family members, sets out to fulfill her destiny.
The second major historical figure to inspire Dumont (following 2013's Camille Claudel, 1915, the somber take on the tail-end of the sculptress' life) proves to be an odd mix of Dumont's incredibly dark early work (which featured non-professional actors as characters stuck in desperate situations throughout pockets of rural France, from The Life of Jesus to Outside Satan) and the bizarre comedic undertones of his perverse slapstick comedies (2014's Li'l Quinquin, 2016's Slack Bay).
Religious fervor also marks the early days of Jeannette, a young, isolated shepherdess singing vehemently her nationalist ideations and extreme hatred for the invading English armies. Endlessly searching for guidance from the savior she so plaintively addresses as she stamps around barefoot in the summer of 1425 (DP Guillaume Deffontaines, who has worked with Dumont since 2013, attempts to collect all the herky-jerky movements of the performances, from righteous head bangs to dirty feet), she invokes "the sunrise of your reign," which recalls the medley of Eric Clapton.
From a pair of droll nuns (both meant to embody the personality known as Madame Gervaise), who execute their wooden choreography like high-school students in a high-school stage production, to Joan (doffing the moniker Jeannette) as an increasingly agitated young woman, Dumont's film is filled with pronounced strangeness, as well as some bleak moments of self-awareness. "I am more or less sure I'll never go mad," she declares to an age inappropriate uncle (Durand Lassois, providing the film with some amateurishly inclined comedic relief) who comes to bundle her off to some new scenery at the behest of her off-screen father.
While strange doesn't quite describe the overall effect of Dumont's Jeannette, this is an ambitious, even overwhelming mash-up of cinematic tactics morphed into one delectable, original bauble. This tenth cinematic feature (if you count Li'l Quinquin, released as a television mini-series) from Bruno Dumont confirms his stature as one of today's most innovative and consistently challenging auteurs.
Reviewed on September 11th at the 2017 Toronto International Film Festival – Wavelengths Programme. 106 Mins.
★★★★/☆☆☆☆☆