Reviews
Contemporary Color | 2016 Hot Docs Review
On An Ultralight Beam: Ross Brothers Turn David Byrne's Color Guard Dream Into Vivid Sensorial Masterpiece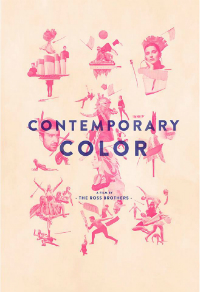 Back in January of 2015, former Talking Heads frontman David Byrne revealed a new projected he'd been working on called Contemporary Color, in which ten high school aged color guard teams would collaborate with ten A-list musical acts to create a special event that celebrates the unique beauty of the choreographed flag waving, prop tossing and youthful dancing of the color guard tradition. Oddly, Bill and Turner Ross were tapped to document the performances, which were co-commissioned by Brooklyn Academy of Music and Toronto's Luminato Festival and took place at the Brooklyn's Barclays Center and Toronto's Air Canada Centre. The result, Contemporary Color, is nothing short of intoxicating cinematic sorcery that somehow manages to harness the wild roiling emotions of teenage performance with a pure sense of aesthetic accentuation and raw emotional truth.
No film in recent memory evokes such joyful exuberance by capturing not only the unearthly swirl of rippling colors and swelling sonic expressions by the likes of musicians St. Vincent, Zola Jesus, Nelly Furtado, Tune-Yards, Ad-Rock and more, but the quiet moments just before a piece starts or the highs that follow in the wake of a wave of applause. Teammates are caught sharing knowing glances, locking hands and giddily awaiting their moment in the spotlight, each instant revealing the intimacy that's grown between them and may soon be severed as seniors graduate and a new band of bodies move up to replace them. It all makes for heartrending emotional fireworks, and yet their sentiments are never exploited for the sake of mere tear jerking. Often times, the sheer jubilance that radiates from the performances themselves is enough to melt one's heart.
Much like the Ross Brothers' 2012 breakthrough feature Tchoupitoulas, which compounded time in order to appear to follow the edifying overnight exploits of a trio of young brothers out in the streets of New Orleans, their latest film takes its bulk from the final performance at the Barclays Center as well as bits and pieces from the multiple shows that took place leading up to it and compresses them to appear as though we are watching one single performance running in real time. The effect is seamless. And thanks to the massively scaled up production team (from their previous tag team productions) that saw the enlistment of an A-list of nine other filmmakers and cinematographers to assist in shooting the project, including Amanda Rose Wilder, Robert Greene, Jessica Oreck and Sean Price Williams (whom you get a brief glimpse of midway through), we are not only treated to beautiful multi-angled vérité coverage of the choreographed dance numbers from each team and musical performances, but numerous backstage happenings as they play out in parallel.
By letting us peak behind the curtain so to speak, the Ross Brothers deepen our emotional experience and allow us to see just how many people and processes are involved in pulling off a show of this magnitude. They even extend that privilege to include pre-prepared segments that investigate the involvement of coaches and parents which are shown between acts. Yet, the greatest psychological question at the heart of the film – what is running through the minds of these kids? – is movingly broken down by an audio collage by Ira Glass and Nico Muhly, in which a team of young color guard performers take us through a dance moment by adrenaline fueled moment as we watch the performance play out live. And most excitingly, among a laundry list of attributes that instantaneous makes Contemporary Color one of the best concert docs to ever be conceived, is Bill Ross IV's dazzlingly meticulous edit, painting an astounding portrait of performance by overlaying the perfected movement of bodies, flags and batons with the emotive faces of musicians and occasionally stylized at home prep segments to amplify the emotional impact through form. What more could a documentary lover ask for?
★★★★★/☆☆☆☆☆
Reviewed on May 5th at 2016 Hot Docs Film Festival – Special Presentations Program – 96 mins