MMXX | 2023 San Sebastián Intl. Film Festival Review
Hindsight, 20/20: Puiu Contemplates the Comedy of Crisis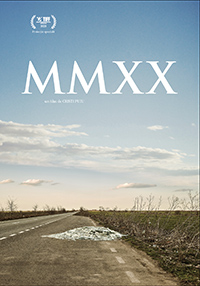 Mercury is most definitely in retrograde for the four principal characters in MMXX, the latest foray into vaguely sinister intricacies of interconnectedness from Romanian auteur Cristi Puiu. A quartet of stories unfold throughout the early days of the COVID-19 pandemic, each revolving around interruption and discombobulation for those navigating rituals and routines, ranging from an austerely comical sense of distress to something a bit more disturbing by the film's fourth chapter (although the director himself seems to have anointed the project as a 'new human comedy'). Puiu's microscopic approach proves to be more unnerving than usual, dropping us into the sprawling anxiety of an uncertain chaos we've hardly effectively processed in the three years since the pandemic's onset, and one wonders if the film might feel more approachable as a cranky time capsule decades from now. With a filmography defined by laconic, sometimes bewildering chronicles of unlikeable, begrudgingly affiliated characterizations, Puiu's latest plays like an expiation.
"How do you feel wearing the mask?," asks Dr. Oana Pfifer (Bianca Cuculici) of her client Lucy (Roxana Ogrendil) during an in-take for their first session. It's a rueful introduction for Puiu, who received considerable negative attention regarding his vocal criticism on the required masking during the film festival circuit tour for his 2020 film Manor House (aka Malmkrog), a complex, three hour plus period chamber piece based on Russian philosopher Vladimir Solovyov's 1915 publication, War, Progress, and the End of History. It's perhaps the film's most comedic vignette, if one could rightly deem it as such, where therapist and client get mired in the semantics of a questionnaire used to determine Lucy's state of mind. Oana's distractedness becomes increasingly apparent while Lucy goes off the rails a bit, citing a dislike for Scandinavians, convinced the world is against her.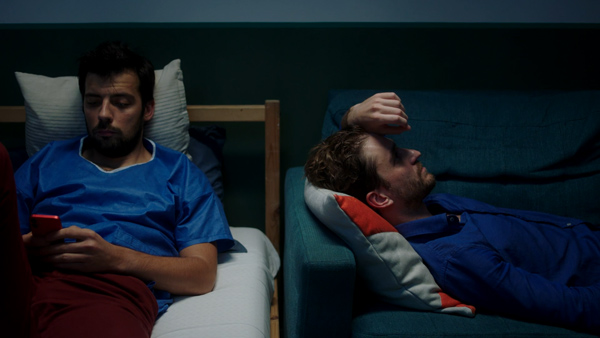 Oana is the segue for the next chapter, where her distraction continues in the kitchen, attempting to make a rum cake for her brother's (Laur Bondarenco) birthday in a scenario which feels increasingly Bunuellian. Her absent-minded husband Septimu (Florin Tibre) finds himself irritatingly lassoed into driving Oana and her brother to a hospital where a pregnant, off-screen friend has given birth after suffering some sort of abdominal emergency, concurrently diagnosed with COVID-19. Their cramped apartment, wherein it seems they have none of the equipment they need to make a proper cake, is littered with the debris of their lives (a disc set of Jacques Rivette's thirteen hour 1971 opus Out 1 peeks out of this rubble to suggest a thematic collusion with the French New Wave classic following a series of characters in the wake of May, 1968). Her husband then becomes the focus of a segment named for Norma Jean Mortenson, the real name of Marilyn Monroe. While awaiting the results of his COVID-19 test, he listens to a colleague, a fellow ambulance driver, relaying the story of having dated a Russian mobster's girlfriend, in what feels like the film's least captivating conversation.
Dragos Bucur, who starred in Puiu's 2001 debut Stuff & Dough, headlines the final segment as Narcis, an organized crime inspector interviewing a young woman at a funeral. The interview becomes increasingly troubling, as it would appear the subject was involved in a sex trafficking ring, perhaps both as victim and victimizer based on the line of questioning. It's also unclear if this is related to the dead man next door in the casket (though there's an ironic line about a tuberculosis diagnosis as not being of the contagious sort).
Puiu's set-up feels similar to some of his previous offerings, particularly 2013's Three Exercises of Interpretation, but with the sinister elements and criticisms which underlined titles like The Death of Mr. Lazarescu (2005) and Aurora (2010), while the audience is similarly challenged in tracing the connections between these various people a la 2016's Sieranevada. How we're supposed to feel about this handful of characters, stuck in a historical intersection most probably will not be eager to revisit, isn't exactly apparent, other than the impression of each cemented by their own self-absorbed grappling with a world they are no longer able to navigate in a way they're accustomed to. In many ways, MMXX bears a certain kinship with Kira Muratova's 1989 agonizing masterwork, The Asthenic Syndrome, a film straddling the end of the Soviet Union and the beginning of a new world order, where endless squabbling amidst a civilization in free-fall suggests the actual act of existence is itself an eroding disease.
Reviewed on September 25th – 2023 San Sebastián Intl. Film Festival – Competition. 160 Mins.
★★★½/☆☆☆☆☆