Riot This Way: Almeryeda Back to Contemporizing Shakespeare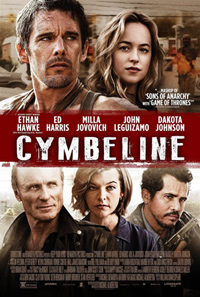 While many were quick to critique director Michael Almereyda's Y2K update of Shakespeare's most notable play, Hamlet, wherein 90's indie poster boy Ethan Hawke served up the royal brooding bloodline's infamous fate within the confines of a sleek Manhattan high rise—it happens to be his most acclaimed title to date. Since then, he's worked on a variety of shorts and documentary projects and unveiled only two other features, book ends that are set in pre and post-Katrina New Orleans (Happy Here and Now; New Orleans Mon Amour). He's back with a modernized adaptation of one of William Shakespeare's later and lesser beloved plays, 2014 Venice Film Festival selected Cymbeline. While several of the Bard's lesser works have been spun into grand cinematic spectacle (such as Julie Taymor's beautiful Titus or, to a lesser degree, Ralph Fiennes tackling of Coriolanus), Almereyda's snazzy traipse through the play's derivative leaning doesn't save the piece from its inescapably underwhelming tendencies.
There is general unease between two ruling powers, as Cymbeline (Ed Harris), leader of the Briton Motorcycle gang is at odds with the crooked Roman cops, run by Caius Lucius (Vondie Curtis Hall). The queen (Milla Jovovich) has demanded her husband stop paying tribute to the Romans, which threatens war. This is exacerbated by the fact that Cymbeline's daughter, Imogen (Dakota Johnson) has been secretly married beneath her status to Posthumous (Penn Badgley), a member of her father's court. Posthumous is banished since the Queen had designs on having her son from a prior marriage, Cloten (Anton Yelchin), take his step-sister's hand to secure his ascent to the throne (something she would have hurried along by poisoning her husband). Meanwhile, as Posthumous waxes poetically on his lady love while in exile, Iachimo (Ethan Hawke), a friend of a friend, wagers that he can seduce Imogen in her husband's absence.
Almereyda's assembled a formidable cast, reteaming with Hawke once again, here a sleazy lothario who engages in a Dangerous Liasons type bet which brings about dramatic doom. Also, John Leguizamo and Vondie Curtis Hall, both featured in Baz Luhrman's 1996 updo of Romeo+Juliet, make appearances, though neither is quite as memorable here. Almost thrilling in its early set-up, opening with the warning to "Keep your head" as a series of intertitles bring us up to speed before it flings us into a tense snake pit of power play between the Roman police force and the biker gang run by the once eponymous Cymbeline, it doesn't maintain this aggressive energy.
Almereyda can't secure this thread of engagement once heroine Imogene pulls a familiar Shakespearean gender bend (notable comparisons are Viola in Twelfth Night and Rosalind in As You Like It) and blearily absconds to the forest, stumbling upon a cabin wherein three men (with secrets important in the finale), led by Delroy Lindo, no less, serve up a rudimentary Snow White scenario.
Reaching theatrical release after her notable presence in Fifty Shades of Grey, all eyes will be on Dakota Johnson, who fares as well as anyone else in this odd set-up. Ed Harris isn't quite believable as the grizzled leader of a biker gang (and one wonders if this would have been more effective had Almeryeda plundered the cast of "Sons of Anarchy," and hired Ron Perlman as Cymbeline—maybe, just maybe even Charlie Hunnam as Cloten would have seemed ideal), while Penn Badgley barely registers as Posthumous.
Milla Jovovich gets to be a beautiful, evil queen (her chintzy tiara lends the film a certain expression, a kind of jagged gap-toothed grin, not unlike the cheesy Halloween set decorations littered about) and she even gets to perform an oddly styled song in the midst of all this posturing.
Though Almereyda pares down Shakespeare's verse, this is still a queasy modern mixture, feeling forced rather than innovative, such as when Hawke's character whips out an iPad, or Obama is featured in a television clip. When Posthumous and Iachimo lay out the ground rules for their bet on the virtuous Imogen, her husband vows if he should win, "You will answer to my sword!" It's hard to generate any threat or tension when Amereyda's tone combats the adapated prose.
★★½/☆☆☆☆☆