Assassin's Creed: Fincher Sculpts More Murder Into Art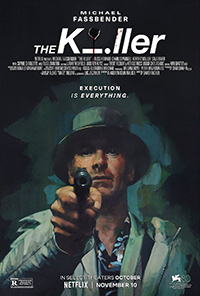 There's simply no room for error in some professions, chief among them the business of expert assassins, especially those hired to take down high profile marks whose demise nets delirious lucrative profits. For his twelfth feature film, David Fincher returns to the provocative art of bloodshed in The Killer, based on the French graphic novel series by Alexis Nolan and starring Michael Fassbinder as the titular hitman. We enter his world doing what he does best, biding his time for an opportunity to complete his latest contract, hiding out as a sniper in a WeWork building under construction opposite a luxury hotel. As far as Fincher's penchant for humans murdering humans goes, from his serial killer projects Seven (1995), Zodiac (2007) and the "Mindhunter" series, to his pulpy psychological thrillers, such as his remake of The Girl with the Dragon Tattoo (2011) and Gone Girl (2014), his latest foray into the mind of a cold-blooded gun-for-hire might seem a bit old hat. Straightforward and enjoyable, it's a slickly paced, country hopping glossy exercise about an emotionless man who has to annihilate some goons before he gets got, nothing more.
After bungling a high profile job in Paris, a nameless (or actually, many-named) killer high tails it back to his isolated home in the Dominican Republic. However, once he arrives, he finds his palatial estate has already been vandalized, his girlfriend badly wounded and hospitalized. Such are the consequences for failing in his profession. To ensure she won't be harmed again and to save his own life, he must strike back, and strike hard. Mercilessly murdering his employer to determine who the original client of the Parisian hit was, as well as the two assassins who came after him, he embarks on a dangerous, vengeance fueled odyssey.
Essentially, The Killer plays like the loquacious version of Jean-Pierre Melville's influential crime classic Le Samourai (1967), in which a reticent Alain Delon stars as an assassin who flubs a job, with the police and his employers trying to take him down. Fincher reunites with his Seven scribe Andrew Dean Walker to craft a persona for Fassbender almost entirely out of his inner thoughts offered as omniscient narration. The extended opening sequence introduces us to his work ethic, his mantra, and his overriding cynicism regarding humanity, but we learn little about him beyond his commentary about whatever's going on at the moment. Thus, this sometimes causes quite a bit of repetition, and even some flat comedy whenever the killer thinks he's being funny. What works best are his bitchy statements about how people never fail to disappoint. However, someone should likely point out to him his particular line of work is skewed in the direction of reprehensibility underlined by dog-eat-dog survival tactics.
Trent Reznor and Atticus Ross return to score for Fincher, though the gleaming opening montage doesn't quite reach the striking heights of their contributions to The Girl with the Dragon Tattoo's credits. As thus, it seems like a fitting introduction for something which plays a little more by the numbers. As we turn from Paris to the Dominican Republic to New Orleans to Florida to Chicago, Fincher's regular DP Erik Messerschmidt keeps up with each specific locale, though nothing in the film rivals Fassbender's violent face off with one of his girlfriend's perpetrators in the Sunshine State. The killer's penchant for The Smiths as a calming salve for his nerves tends to feel a bit over utilized (how much Morrissey does one murderer need?), the irony of which could have used some shaking up. Tilda Swinton, who keeps being described as a Q-Tip, is her usually well-heeled self as a stop along his murderous path, though one wonders if something a little bit more ornately sinister couldn't have been managed for her.
Arliss Howard pops up as the obnoxious, elitist client who inadvertently ordered the death of the failed assassin when he requested the trail be wiped clean (Fincher playfully features Debra Winger as his character's wife in the killer's google image search of him). For a film which desires to showcase its character's worldview, who believes there is no such thing as karma, luck, or justice, it would have perhaps benefitted the film to feel as cruel and cynical as this worldview merits (beyond the murder of innocent bystanders on his killing spree). Or perhaps a better portrait of the Achilles' heel he won't admit he has regarding his relationship would have helped generate more anxiety or tension. But as far as smug, talented assassins go, Fassbender's killer is entirely watchable.
Reviewed on September 3rd at the 2023 Venice Film Festival – In Competition. 118 Mins.
★★★/☆☆☆☆☆