The Tale of King Crab | Review
Shellfish People: Rigo de Righi & Matteo Zoppis Craft Unique Narrative Steeped in Oral Tradition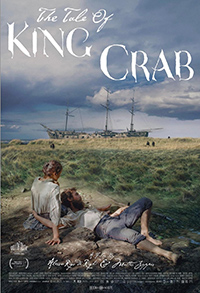 For their directorial debut The Tale of King Crab, directors Alessio Rigo de Righi & Matteo Zoppis fashion a framed tale about a legendary drunk as relayed by a tavern full of modern day bar flies reminiscing about their collective nostalgia. With a certain essence of plot holes being filled in along the way, the two part odyssey of an unfortunate ruffian switches tone and style for its second half, jumping from tragedy to bizarrely humorous. Like a spaghetti western, it hits a definite genre groove which feels uniquely self aware without seeming arch, a narrative crafted collaboratively for its own meandering, maximum effect. Recalling the works of several revered auteurs, Italian and otherwise, it's a novel film of various intersections announcing an intriguing pair of new directorial voices.
A group of drunken hunters reminisce about the tale of Luciano (Gabriele Silli), an infamous drunkard who wandered a remote village in the region of Tuscia. As the men recount the local legend, the film transitions into the first of two chapters, "The Saint Orsio Misdeed," wherein Luciano's resistance to authority invites a predicament over the local prince regarding a right of passage through an ancient gateway in the region. A dalliance with Emma (Maria Alexandra Lungu) also heightens the tensions, culminating in a terrible action caused by Luciano at the Saints' Feast. The hunters pause, then resume Luciano's fateful abandonment of his home to Argentina as a treasure seeker, where a group of marauders hold him hostage in his quest, utilizing a crab, to locate a mythical trove.
The elderly hunters recall Luciano as something of a rebellious folk hero, although his trajectory tends to court the nickname "Unlucky." His tendency to get blotto and demean authority figures is cause for a tragic altercation, but it's also his romantic inclinations which set the stage for a fiery inferno at the film's midsection. Until this point, there's a certain rural fairy tale quality, like the vignette stylings of Rossellini's The Flowers of St. Francis (1950). But upon banishment to Argentina, posing as a priest, in search for mythical treasures, outfitted with a literal crab in a bucket ("the crab is the compass and I am the map"), there's an insanity here which courts early Herzog's Klaus Kinski madmen, who were often accompanied by mammalian co-stars (and throw in a little Rutger Hauer from Ermanno Olmi's The Legend of a Holy Drinker, 1988). As Luciano, Gabriele Silli has the ravaged semblance of a Jeff Fahey or Tom Selleck on an endless bender and is utterly fascinating to watch since we're never quite certain when the inevitable conflict between him and his antagonists will occur. When it does, there are some unexpected outcomes, but Rigo de Right and Zoppis eventually defer to an old-fashioned shootout.

The second chapter of the film, "Asshole of the World," in particular is oddly droll, such as the bitchy exchanges between a befuddled captain and his crew (he's "an old man forgotten by death," one jibes, not quite out of earshot). Likewise, Silli has a tendency to look always on the edge of sleep, and his wariness is reminiscent of William Talman's one-eyed sleeper in Ida Lupino's The Hitch-hiker (1953). Amusing but darkly comedic, The Tale of King Crab infuses the power of oral tradition infused with vibrant cinematic finesse.
★★★½/☆☆☆☆☆
Reviewed on July 10th at the 2021 Cannes Film Festival – Directors' Fortnight. 100 Mins