Rien à perdre (All to Play For) | 2023 Cannes Film Festival Review
Other People's Children: Deloget Butts with Bureaucracy in Familial Drama
Virginie Efira continues to explore the arduous spectrum of contemporary motherhood in her latest film, Rien à perdre, the directorial debut of Delphine Deloget. While the English language title, All to Play For might not correctly convey the film's spirit, the actual translation, Nothing to Lose, is a better indication of the (somewhat) impossible scenario a single mother finds herself thrust into when the social welfare system intervenes in the rearing of her youngest child. Deloget seems intent on showcasing the frustrating errors committed by both parties claiming a stake in one very hapless child's interests but the foundations of the narrative tend feel a bit exhaustingly soppy by the time the film leads us to a questionable resolution without configuring the requisite desperation to justify itself.
Deloget opens the film with a frenetic scene of teenager Jean-Jacques (Felix Lefebvre) furiously pushing his sibling through the nighttime streets in a shopping cart, imagery which recalls something like the young Charlotte Gainsbourg in Bertrand Blier's Merci la Vie (1991). Eventually, we realize they were headed to the emergency room to treat Sofiane's (Alexis Tonetti) grease fire burns, the aftermath which is immediately downplayed by the harried Sylvie, who works overnight in a female owned bar which seems outrageously chaotic (hence her inability to check her cell phone for missed calls). Their daily life seems on the verge of disarray, though they're somehow functional as a familial unit (with Efira often feeling a bit too polished to suggest the kind of vulnerability visited upon her family), acquiring a pet chicken and caring for her irascible brother Herve (a bedraggled Arieh Worthalter). When social services refuse to be ignored, Sofiane is snatched up, partially thanks to Sylvie's neglect to respond to their repeated summons, making room for India Hair's social worker Madame Henry, who seems to have attended the same university as Nurse Ratched.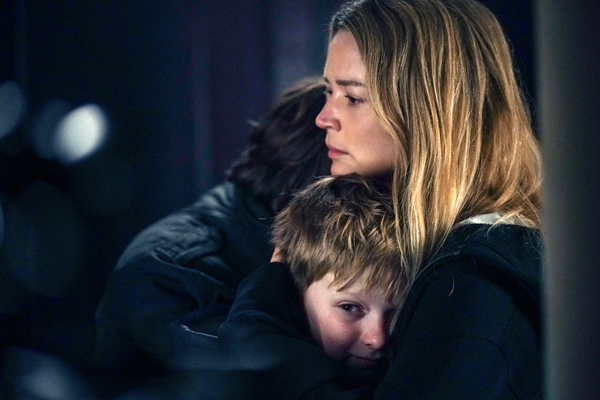 The events of Deloget's narrative play out expectedly, despite a surprising amount of energy devoted to Sylvie's attempts to change occupations and reconnect with her other brother, Alain (Mathieu Demy) a responsible sort who holds a rather vague animosity for his sister thanks to their upbringing which included the untimely death of their parents. And while Sylvie's support system rallies round her and circumstances force her to better communicate with Jean-Jacques, the child welfare emissaries remain almost viciously unyielding. Unfortunately, some of Sylvie's outbursts allow for them to seem justified in their actions, including her making an unannounced scene at the courthouse which ends in her detainment, her sabotage of her new day-time gig, and then a violent altercation with Madame Henry.
The whole point of Rien à perdre seems to be, once you're mired in the system, there's simply no way out. A support group she attends with parents in similar situations trying to regain custody of their children underlines this, many of whom have battled the system for years. And while Sylvie's scenario is indeed tragic, Deloget's insistence on showcasing her as a (quasi) warts and all well-intentioned mother who just can't seem to control her emotions often seems aggravating for all the wrong reasons. It's a film reveling in neuroses and thus seems merely a cynical yet somehow mawkish anecdote from a universe defined only by unnecessary hopelessness.
Reviewed on May 25th at the 2023 Cannes Film Festival – Un Certain Regard. 112 Mins
★★½/☆☆☆☆☆