Only the Animals | Review
Catfish People: Moll Returns to the Ripple Effects of Identity Issues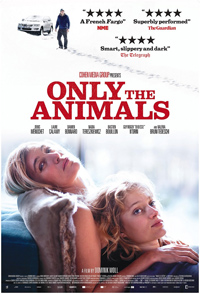 In the early 2000s, German born Dominik Moll was a fast-rising director of contemporary French cinema thanks to the success of his sophomore film, the well-received thriller With a Friend Like Harry… (2000), followed by the enigmatic Lemming (2005). Diverging into literary adaptation with 2011's The Monk and then light comedy in 2016's News from Planet Mars, Moll reunites with scribe Gilles Marchand for another identity-razing thriller, Only the Animals (Seules les bêtes), adapted from a novel by Colin Niel. If Simenon had lived into the technological age, his narratives might have turned to similar dramatic catalysts as employed here in this disconsolate thriller masquerading as a melodrama, clicking together its pieces to a puzzle neatly, efficiently, and with more than its fair share of human developmental dysfunction to define it. While it's neither as slick as Harry or arthouse bizarro as Lemming, this marks a comfortable return for Moll and Marchand who favor portrayals of turmoil and desperation roiling beneath the frail, chipped veneer of their unhappy characters.
During a winter snowstorm in a remote French village, Evelyne Ducat (Valeria Bruni Tedeschi), a wealthy white Parisian woman, is reported to be missing when her car is discovered abandoned on the side of the road. As the local policeman (Bastien Boullion) tries to locate her, he suspects a local social outcast (Damien Bonnard), who is having a reluctant affair with an unhappy farmer's wife (Laura Calamy) who resides nearby. However, her husband Michel (Denis Menochet) has been involved in his own secret affair with a young girl online named Amandine, who is actually a fake profile created by Armand (Guy Roger "Bibisse" N'Drin), a young man in Abidjan, the Ivory Coast capital, who is part of a ring of West African men posing as young, white women to fleece money from older lonely men. A strange coincidence involving a young waitress (Nadia Tereszkiewicz) causes a tragic, dramatic crash course wherein all their lives will be affected by what happened to Evelyne Ducat.
There's a definite sense of menace as Only the Animals unspools, but this feverish tension chills by the third act, when more than enough information has been divulged and nearly all questions answered. But it's also this clammy, unpleasant finale which allows the film to flop and flail like a dying creature, wherein no amount of narrative oxygen is going to save these characters from the death knell of life as they know it. This coterie of characters is all suffering from the same malaise, more or less, seeking the spark of excitement and liveliness missing from their stagnant marriages or tiring socioeconomic advantages and/or disadvantages. As such, the narrative plays out a bit like the underrated Henry Alex Rubin film Disconnect (2012), a film of juxtaposed and interweaving storylines which also wends itself together a bit too neatly but also manages to be emotionally resonant and consistently compelling.
The narrative's ideas about love take on great import. Arrested for his cybercrimes, Armand is advised by law enforcement, if in a rather curious exchange, that "love is giving what you don't have," with the unspoken addendum haunting the unhappy people connected by their shared doom being, "love is not taking what you want." The transgressions are bits of secret selfishness on the parts of all these characters, who ply another for fulfilling their needs and never bothering to weigh the reciprocal exchange.
If Denis Menochet is again playing another lumpy meathead as in 2017's Custody, Valeria Bruni Tedeschi surprises as the dead woman, in flashback a sexually free but bored elitist housewife whose affair with the twenty-something waitress played by Nadia Tereszkiewicz is toxic but provides the film with its few tender moments, at least shared momentarily by the same two people (similarly the object of Armand's affections is kept by on offscreen older white man, who tells him during his attempt to woo her "I won't leave my white guy not for you or anyone").
Damien Bonnard, whose rustic visage and his ease at channeling oafish awkwardness (as also evidenced in Alain Guiraudie's Staying Vertical, 2016) walks away with the most memorably uncomfortable moments thanks to his fascination with a corpse (and in by far a better performance than in Les Miserables, Ladj Ly's celebrated social issue drama out of Cannes this year). Calamy (recently of Justine Triet's Sibyl) is empathetic and frustrating, and as the pieces of the puzzle fit together, one comes back to her scenario and her disastrously off-base interpretations of what's been happening.
Seeing as each of their issues stems from their own selfishness and an unwillingness to communicate authentic desires and needs, Only the Animals (a phrase referenced in an early exchange between Calamy and Bonnard suggesting the bliss of ignorance and the opportunity for a harmonious environment can only be attained amongst the company of beasts) is, perhaps, a bit too gloomily obvious with the six degrees of separation between all its principles.
A vibrant Philip Glass-ish score from German composer Benedikt Schiefer (who also scored Karim Ainouz's The Invisible Life of Euridice Gusmao, 2019) assists in calibrating its dramatic punches. Lensed by Patrick Ghiringhelli, who captures a sense of menace in the film's pertinent winter storm sequences, Only the Animals is a return to narrative form for Moll, who excels at navigating the slippery slope of identity issues and fluctuating parameters of persona based on circumstance, opportunity or environment. While not as daring as some of his early efforts, it's comfortably compelling and often captivating as we navigate the who, what, when and why of these interconnected characters.
Reviewed on August 28th at the 2019 Venice Film Festival – Venice Days. 116 Mins
★★★/☆☆☆☆☆