Final Draft: Reitman's By the Numbers Sports Drama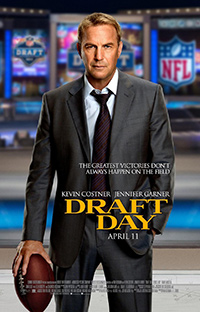 Director Ivan Reitman leaves behind the realm of rom-com for a masculine about-face with the football drama, Draft Day, which, as you can rightfully assume, takes place on the eponymous day, its clock kicking off thirteen hours before the grand finale. Screenwriters Scott Rothman and Rajiv Joseph takes deliberate pains in dumbing down the behind-the-scenes process that goes on, which will certainly help engage complete strangers to the realm, though this is hardly a realistic inside look at anything more than your conventional sports drama about a down-on-his-luck dude who manages to outsmart everyone despite dubious popular opinion.
The countdown to Draft Day has begun, and this year, Seattle holds the number one pick as well as the current top star, quarterback Bo Callahan (Josh Pence). However, the Seattle manager, Tom Michaels (Patrick St. Espirit) thinks he can oversell Callahan to a desperate team, and tries to strike a deal with Sonny Weaver Jr. (Kevin Costner), manager of the Cleveland Browns. After two years, Weaver is still living in his father's shadow, who had previously managed the team and passed away the week prior, while the team owner's (Frank Langella) displeasure with Weaver's skills has him demanding that a splash be made this season, or else. And so, Weaver caves and trades his team's next three year's number one picks in order to snag Callahan, a decision that his team coach (Denis Leary) is hardly happy with. As the hours tick by, Weaver isn't so sure he made the right choice concerning Callahan and tries to find out what he can about the star player. Meanwhile, family issues cause Weaver additional distress with his aggressive mom (Ellen Burstyn) and ex-wife (Rosanna Arquette), both appearing without warning to scatter his father's ashes on the training field, while the team's financial executive and his secret girlfriend (Jennifer Garner) has just divulged that she is carrying his child. It's turning out to be an eventful day for Sonny Weaver Jr.
The most significant aspect of Draft Day is an arresting visual design, albeit one that tends to feel a bit overused. Kudos to Reitman's editors, Dana E. Glaubman and Sheldon Kahn, who splice together frames to create a constantly roving perspective, with rotating split screens that even feature characters walking out of their own frame and through another seamlessly. It's certainly an ingenious way to keep constant engagement with considerably dry material. Likewise, this has to be one of the most appropriate roles for Kevin Costner in recent memory and his wearied, unhurried performance does happen to be appealing (keep in mind this is in comparison to two other 2014 Costner performances that ended up being quite laughable, those being the Jack Ryan reboot and 3 Days to Kill).
A host of supporting characters hold their own in nondescript roles such as Burstyn and an enjoyable Chadwick Boseman, while Reitman regulars like Kevin Dunn and Frank Langella are featured as well. A series of other familiar faces (Rosanna Arquette, Terry Crews, Sean Combs) seem conveniently placed. We're saddled with having to fathom an unenthusiastic Jennifer Garner as Costner's love interest, her zeal for football about as genuine as her conflicted emotions in The Dallas Buyers Club. Likewise, the desperation to compound dramatic tension is ridiculous. From frame one, when we learn that Garner is a secret and now pregnant girlfriend, it makes no sense that on Draft Day, of all damn days, she would choose to drop such a stressor on him; at least, not as we come to learn how patient, understanding and levelheaded her character happens to be.
Certainly not at the level of some of Costner's most beloved sports themed films like Bull Durham or Field of Dreams (though it's a hell of a lot more entertaining than Tin Cup), Draft Day is never surprising with its deliberate pace and conventional narrative choices. Inevitably, it becomes a convenient, cornball cliché. While those uninterested in football will likely remain unimpressed, it's sure to mean more for aficionados or fantasy football acolytes. And as much as it takes a cue from what is apparently a real life Cleveland Browns reality, truth be told, like any of the aforementioned Costner titles, any organized sport could have been at play here.
★★/☆☆☆☆☆