Last Night in Soho | Review
Profondo Glosso: Wright Falters with Glossy, Pseudo-Feminist Ghost Story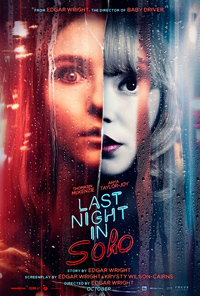 Opening upon joyful musical reverie and descending into vibrant color palettes, Edgar Wright's attempt at serious genre in Last Night in Soho banks on the avoidance of close inspection. A pastiche of dueling homage with its obsessive embrace of the Swingin' Sixties and the Italian Giallo craze of the early 1970s, the script from Krysty Wilson-Cairns formulates a ridiculous narrative built upon vague parameters and cliches, hiding its surprises behind lazy tricks and repetitive attempts at establishing mystery.
A well-curated soundtrack list highlights how music (not to mention fashion) of the era remains influential, but, alas, the film itself is evidence how sampling or covering previously celebrated territory either results in mediocrity, or, worse, overwriting originality's imprint in the zeitgeist. An exciting cast (including a trio of Brits who were icons of the 1960s), excellent production design and a committed lead performance from Thomasin McKenzie, aren't enough to elevate this beyond a mimicry of past fantastic films with more subversive statements to make.

Eloise (McKenzie) has just been accepted at the London College of Fashion, planning to pursue her dream to be a fashion designer. Her grandmother (Rita Tushingham) is concerned, as Eloise's mother died years prior after leaving Cornwall for London. But Eloise has something of a sixth sense, allowing her to see spirits, at times. Although her initial debut in student housing is marked by a hellacious roommate experience, Eloise finds her own place to rent on the top floor of an old apartment building owned by Miss Collins (Diana Rigg). Almost immediately, Eloise finds herself inhabited by the ghost of a young woman named Sandy (Taylor-Joy), who in 1965 lived in the same apartment and desired to be a famous singer. But Eloise watches helplessly, each night as she sleeps, how Sandy's dreams die after finding a manager/pimp (Matt Smith) who cements her descent into degradation. As Eloise tries to distance herself from these visions, the faceless male perpetrators of Sandy begin to assault her, and she desperately attempts to find out who Sandy was so the police can perhaps investigate what happened to her.
Initially, Last Night in Soho promises to be a pertinent statement on sexual assault, or how it's continual perpetration resides in acceptable norms of the heteropatriarchy. The cultural tumult of the 1960s, which assisted in creating the renaissance of the period, of course, had a putrid underbelly. Twiggy and Audrey and Petulia might be aspirational, but unfortunately, the trajectory of Taylor-Joy's Sandy was (and remains) a common trope. Young women fleeing to the cities for fame and fortune aren't an unusual narrative subject, but Soho strangely resembles, in part, something like Antonio Pietrangeli's I Knew Her Well (1965), in which country gal Stefani Sandrelli tries to become a starlet in Rome only to find herself used by older men. But it's how Wright chooses to handle supernatural elements where the film's construction feels most flimsy.
Off the bat, we learn Eloise has a 'gift,' which seems to consist of glimpsing her dead mother, who killed herself years prior while attempting the same dream as Eloise. The twists revealed from her gift, including why she's experiencing Sandy's demise, etc., highlight some glaring plot holes, while relying on the same old song and dance of preternaturally troubled women whose behavior makes them vulnerable. Yes, Eloise may be from little old Cornwall, but surely she must realize, in 2021, how reporting a murder she's witnessed psychically would suggest she's unstable? But then, it's the catalyst for the ridiculous denouement, wherein we learn something else about all those faceless male spirits trailing her as well (note: it's silly). Also, if you've seen The Golden Glove (2019), then you should immediately realize the film's method of disposing of corpses doesn't sit well either.
The inclusion of Rita Tushingham, Terence Stamp, and Diana Rigg (in her final screen appearance) will have you guessing which of them are red herrings (the film has several), so for their involvement alone, Last Night in Soho is worth a watch. Anya Taylor-Joy, though impeccably styled, is merely a beautiful ghost. Matt Smith and Sam Claflin are only toxic phantoms of the past, as well. Synnove Karlsen plays Jocasta (a character upon which the classic Greek reference is miserably wasted), who is a caricature along the lines of Mean Girls Go to College. DP Chung Chung-hoon is the real star, conjuring the essence of giallo beauty, like Argento's Suspiria (1977), and concocting the most invasive neon lights since Frank Biberkopf's apartment in Fassbinder's Berlin Alexanderplatz (1980).
Strangely, this becomes an oddly dimwitted piece of pseudo-feminism which sends all the wrong kinds of messages even as it predicates itself on highlighting violence against women. The catharsis of victims taking justice into their own hands seems to be the eternally dubious message, but Wright isn't really testing our alliances as strongly as he should be. For instance, Eloise's love interest John (Michael Ajao), who immediately falls head over heels despite her ambivalence, isn't ever characterized as more than a convenient savior. Instead, the film's optics create a different kind of discrepancy, what with a failed sexual tryst taking on the semblance of rape out of context, thereby putting a Black man in a situation where he would likely be shot by police. Then, John continues to sacrifice his time (and body) for Eloise despite her increasingly agitated, dangerous behavior. These are issues worth exploring, but the carelessness in these arenas showcases an empty-headed exercise. A vacuous exercise resulting in a well-produced, half-baked idea of clashing intentions, it's as Aretha once commented about the accomplishments of Taylor Swift—"Nice gowns."
Reviewed on September 4th at the 2021 Venice Film Festival – Out of Competition. 116 Mins
★★/☆☆☆☆☆