The Skin I Live In: Hall Formulates an Elegant, Devastating Adaptation of Nella Larsen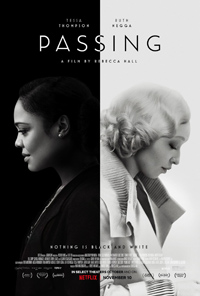 For those who have had the pleasure of reading either of the two works published by 1920s Harlem writer Nella Larsen, the first cinematic adaptation of her prose from her second novel, 1929's Passing, is requisite viewing. Actor Rebecca Hall makes her directorial debut with a flawless mounting of Larsen's poignant explorations of racial, gender and sexual identification, which is poignantly administered and elegantly portrayed through a simmering performance from Tessa Thompson. Hall's own familial background adds a certain level of gravitas in grappling with how our continued cultural obsessions with white and lighter skin tones remains a superficial marker of privilege while remaining a continually destructive validation of socially constructed ideations about race and the resulting racism which accompanies it.

Irene Redfield (Thompson) is an educated woman of color in 1920s Harlem, a place which affords her a sense of agency and comfort. Married to Brian (Andre Holland), a doctor, also allows her the privilege of staying home to raise their child and a maid to mind her home. Otherwise, her time is her own, working for charities and sitting for coffee at the grand tearoom of New York City's Drayton Hotel. One fine afternoon, she becomes unexpectedly reacquainted with Claire (Ruth Negga), an old high school friend she barely recognizes. Donning washed out blonde hair and a pale countenance, Claire shares she has been living as a white woman. Even her husband (Alexander Skarsgard), father to her children, believes this to be true. The reunion reawakens yearnings in both women, and at first Irene rejects Claire's advances of renewing the friendship. But soon they're playing bridge together and as much as Irene seems to welcome Claire's presence, she's also uneasy about what she represents. Jealousy and bitterness begin to wear away at Irene, while her young boys are beginning to experience the harsh realities of being Black in a racist world.
Larsen's characterizations of multiracial Black women caught between two worlds in the 1920s contain seething portraits of resentment, rage, and hollow retributions. In both Passing and the phenomenal Quicksand (1928), Larsen's women run to ruination, refusing to be pariahs but relegating themselves as such in their desire to be seen and appreciated, the type who we define as "cutting off their nose to spite their face." In Quicksand, it was the unforgettably defiant Helga Crane, but Passing contains two similar women, arguably mirror images reflecting the paths they were able to 'choose' for themselves.
Hall's excellent evocation in this black and white presentation, which ironically plays with metatextual themes about how impossible it is to divide either the world or the people living in it towards this dichotomy, channels a beautiful but stark world of compromises. Shot by Edu Grau (who has lensed Hall herself in the past, including in 2012's The Awakening and 2015's The Gift), it's a strikingly shot portrait of Harlem and filled with sequences which are as breathtakingly beautiful as they are agonizing in their repressed themes and shifting identities. So immersive is the experience, it's a rare contemporary cinematic experience where the coalescing of craft and performance divorce one from the reality of its delivery, drifting away to the snow-filled heavens from the chilly world of 1920s U.S. of A. down below. But Passing is filled with glorious instances, even when utilizing more apropos motifs (when Brian and Claire race up an ornate stairway to the climactic finale, Irene hangs back below, recognizing they've seemingly forgotten about her, the Black woman lagging behind in the social hierarchy).
Ruth Negga's Claire is, of course, Irene's main fixation in many ways. Hall dances seductively around their own sexual chemistry and we can see Irene pondering the ability of 'passing' herself. A telling conversation with Bill Camp's Hugh solidifies these sentiments. "If you can, why wouldn't you?" he inquires. But Irene puts the responsibility of motherhood before all else, using it as a shield even to hide from her own feelings towards her husband.
Alexander Skarsgard is used to excellent effect in two scenes, the first where he believes Irene to be white solely because she's in the company of his wife. Later, he runs into Irene on the street alongside Felise (Antoinette Crowe-Legacy) a darker skinned Black woman, and the realization is clear – the company one keeps is also a cultural marker of racial identity.
Thompson is astute in another period performance, fresh off an equally winning turn in Sylvie's Love (2020). Carrying a wisdom beyond her actual years, she is perfection in period cinema, and she imbues Irene with a poise which recalls a litany of studio era stars, including the incomparable Eartha Kitt. Hall only hints at the conflict of Irene's ideologies by diminishing the role of her maid from Larsen's text. However, a few sequences still convey how she flexes her own class privilege by not only employing a darker skinned maid but her ambivalence towards her, as well.
Claire is situated as if a ticking time bomb, living in stealth mode as a white woman but yearning for the freedom of being herself. She straddles a tricky line between treachery and resiliency, a survivor whose ability to pass redefines her persona in every space as well as every move she makes. The introduction to her situation and the trenchant self-loathing it confirms is one of several places where Hall's script really nails the essence of Larsen's prose—while the inherent racism displayed by her husband is one thing, we can't forget the larger cultural consequences wherein, if discovered, she would also be guilty of breaking the law since miscegenation was illegal. Her fall from grace requires the ultimate sacrifice, complicated through the lens of Irene, whose involvement carries with it a weight which will mark her forever. Passages about the exoticism of skin color couldn't be more painfully astute in how it echoes sentiments in today's world about inherent sexual racism in the stated 'preferences' in sexual partners, "something you feel in the presence of something strange—perhaps a bit of repugnance, too," Irene offers in what could have been a throw away musing but reverberates endlessly across the complex interactions and interpretations of them in Passing.
Reviewed on January 30th at the 2021 (Virtual) Sundance Film Festival – US Dramatic Competition. 98 Mins
★★★★½/☆☆☆☆☆