Mothering Sunday | Review
Woman in Love: Husson Mounts Reticent Portrait of Living Life Out Loud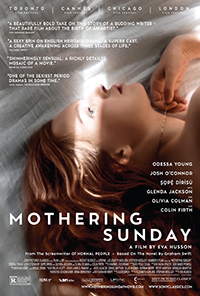 At first glance, Mothering Sunday has all the impeccable furnishings evident in the classic tradition of a Merchant Ivory production—beautiful cinematography enrobing desires repressed by class and gender featuring high profile British talent. Such comparisons eventually reveal themselves to be superficial in this third film from France's Eva Husson, making her English language debut with this adaptation of celebrated author Graham Swift's 2016 novel.
Spanning several periods and dueling tragic romances, the intriguing story of a woman's bold decisions to create her own success despite social mores and expectations takes on a glacial stride through time and circumstance. The nuggets of Swift's narrative thrust are intact, but Husson's crafting of her protagonist's interiority is eventually obfuscated by non-linear decisions generating apathy instead of interest.
Jane Fairchild (Odessa Young) is an orphan working as a maid for the well-heeled Niven family (Colin Firth, Olivia Colman). On March 30,1924, Jane is given the day off in honor of Mothering Sunday (or as it's referred to in the US, Mother's Day). She spends the time in the arms of her secret lover, Paul Sheringham (Josh O'Connor), who lives on the neighboring estate. They've carried on this affair for years, but Paul has agreed to marry a woman named Emma Hobday (Emma D'Arcy), who previously had a relationship with his older brother, killed in the war. On this particular Sunday, his parents (Craig Crosby, Emily Woof) are meeting with the Hobday's (Simon Shepherd, Caroline Harker) in anticipation of the impending marriage.
There's a melancholic sense of this being the final liaison between Jane and Paul. He bids her adieu, allowing her to peruse the house by herself, naked. By the time she returns home, she is met by Mr. Niven, announcing Paul's death in a fatal car accident. Asking Jane to accompany him to the Sheringham's to see if Paul potentially left a suicide note, the two of them discover the maid had already cleared up any remnant of Paul's actions earlier that morning. Between these moments of concern on one fateful day in 1924, flash forwards of Jane working in a bookstore where she would meet her eventual husband, Donald (Sope Dirisu). Another tragedy unfolds side by side with Jane as an older woman (Glenda Jackson), a revered author.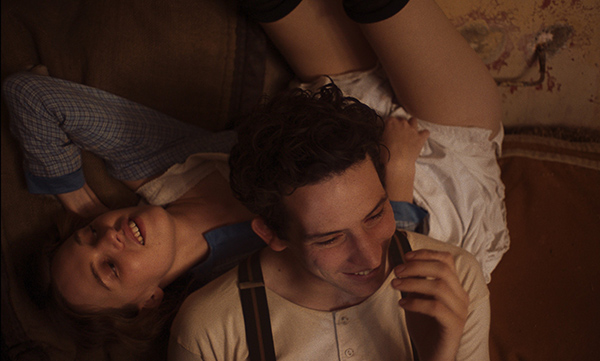 If anything, Husson reveals herself to be a director whose style remains difficult to define, which is perhaps the most exciting element about her output. While her 2015 debut Bang Gang: A Love Story felt like Sofia Coppola tackling Kids (1995), her 2018 follow-up Girls of the Sun attempted to showcase the resiliency of women during wartime. Her latest is certainly cohesive, but so heavily mannered it forgets to tap into the roiling emotions lurking beyond the crusty facade of post-WWI Britain.
Heavyweights like Colin Firth and Olivia Colman manage to do a lot with just a little screen time, but unfortunately their presence seems to anchor our interests specifically to the events of March 30, 1924, which Husson dances in and out of while attending to Jane's later hobbled romance to Donald. Jane's eventual ambivalence for a career achievement she receives as a celebrated author in her golden years, as imbued by Glenda Jackson, merely includes accepting the press attention with tight-lipped dismissiveness. As an aside, the excitement of seeing the glorious Glenda Jackson in her first theatrical appearance since 1990's King of the Wind is a bit unfulfilling in what amounts to a mere cameo.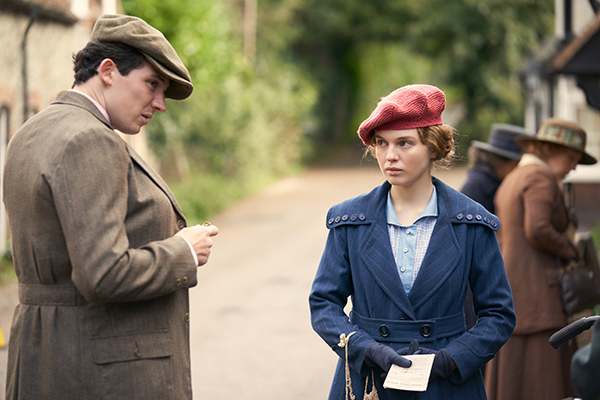 The most jarring elements of Mothering Sunday might be the generous helping of nudity, particularly of Odessa Young, who spends a majority of her day in 1924 mooning around the Sheringham estate naked. It might seem egregious, but Husson is staying faithful to the spirit of Swift's novel, who forgoes the thriller techniques usually defining his output. Young is a beautiful tabula rasa, however, she has little opportunity to ruminate on the tragedies which ended the life of either of her lovers, and this gives Husson's adaptation the strange energy of stretching her narrative over the taut bones of banality while rushing hurriedly over emotions concerning Jane. The weight of Jane's secret isn't exactly the albatross it should be as we move into two other periods of her life.
Husson's finest moment of meaningful sentiment arrives in the guise of Colman, who assures Jane her orphanhood is a blessing as she can truly be whoever she wants to be, unfettered by the smothering claustrophobia of familial or class relations. As such, Mothering Sunday feels like the progeny of Charlotte Bronte's Jane Eyre had the mousy, intelligent governess ever been granted a path to agency and self-fulfillment. However, by now, the bookish maid who pilfers her employer's library enabling her to transgress social dynamics also seems a bit cliche (had Swift kept his usual thriller technique, this might have felt like Ruth Rendell's The Crocodile Bird). Though its central narrative has intrigue, Husson's subdued approach tends to make Jane Fairchild and her journey feel a bit anemic.
★★½/☆☆☆☆☆