White Woman in a Blizzard: Szumowska Pitts Watts Against the Elements in True Life Trauma Drama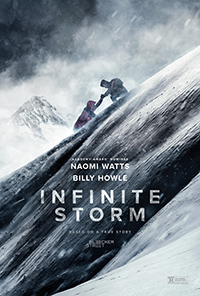 Polish director Małgorzata Szumowska unleashes her tenth narrative feature (and second English language production) Infinite Storm with the grim, breakneck precision of a celebrated surgeon who knows how to cut right to the quick of characterization. Considering she's shot six features, dabbled in short film and television (not to mention serving on a major film festival jury) all in the past seven years, the quality and quantity of her output is impressive. Her latest is based on the life of (well, really more of a specific instance) a woman named Pam Bales, who saved a resistant stranger stranded with her during a deadly blizzard on a desolate mountainside. Scripted by first-time writer Joshua Rollins, there's obviously a sordid familiarity revolving around these types of features wherein a protagonist vs. the elements taps into the resiliency they need to move on from their own trauma. Despite this, there's something jarring about Szumowska's straightforward and grim approach to the material, aided by a compelling, pared down performance from Naomi Watts.
Once upon a previous lifetime, Pam Bales (Watts) was a registered nurse with two children. Now, she's a bedraggled loner whose life is in an unhappy holding pattern. Losing herself in the wilderness in becoming an experienced climber who prefers to scrabble up the slope of Mount Washington in New Hampshire, she finds herself caught in a dangerous blizzard one fateful day before she can reach the summit. Making her way back down, she stumbles upon a man stranded on a precipice. While he can't seem to speak, Pam decides to call him John (Billy Howle), and together the two of them struggle to make it back to safety. In her efforts to overcome John's resistance to being saved, Pam's efforts reawaken a desire to live she's not felt for some time.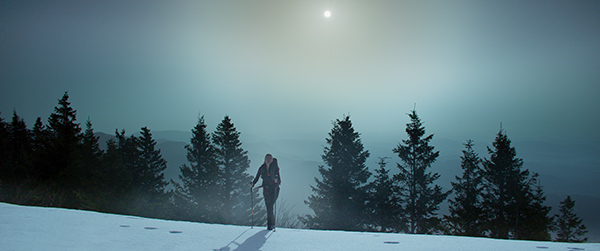 At a first glance, Intimate Storm feels like deja vu – there's a sense we've seen this all before, even during its quiet unfolding moments of a melancholic, lonely woman trekking up a mountain despite warnings of a blizzard, a bit like Wild (2014) meets Everest (2015). It might not help it arrives hot on the heels of another Naomi-Watts-Does-the-Wilderness film, Philip Noyce's risible The Desperate Hour (likewise, Szumowska's last offering had a chilly weather related title, Never Gonna Snow Again). But from its opening moments, it's clear this is a performance and a narrative eager to get down to business.
Staring wide-eyed and vacant over a morning cup of coffee, Pam Bales seems like a woman haunted (one could even say, There's Something About Pam). Obvious signaling occurs with a demure Denis O'Hare, running a local restaurant near the foot of the mountain, warns her about the inclement weather. "You know what day it is," she grimly replies, and eventually we discover what's eating at Pam during a flashback which is utilized effectively for significant impact. Billy Howle's "John" is the mysterious catalyst for Pam's reawakening and we never really learn much about him—-although this is technically based on a true story, one can see how he could be a figment of her imagination in another narrative. But there's at least a compelling series of sequences between John, a man who appears to have a death wish, and the increasingly frustrated Pam, as she tries to save him. The spare cast is rounded out with the briefest of appearances by Parker Sawyer (Southside With You; Monsoon) as a journalist keenly interested in Pam's story.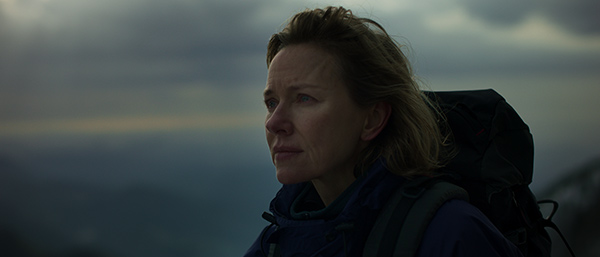 Another plus is how Rollins' script doesn't demand a whole lot of talking aloud from Pam to inanimate objects or animal subjects. Verbal pondering is kept to a minimum (unlike, say, Watts' performance opposite a scraggly bird in Penguin Bloom, 2020). Beautifully shot by Szumowska's usual collaborating DP (who co-directed her last feature) Michael Englert, Slovenia is a stunning backdrop standing in for New Hampshire. Although moments of the script can't resist a certain overly dramatic panache, the most egregious (and also the most fitting) being "the whole universe appears as an infinite storm of beauty," the film is certainly in keeping with Szumowska's interests (and much more adept than her English language debut, the cult thriller The Other Lamb, 2019).
Preferring to focus on wounded, emotionally impenetrable central characters (Elles, In the Name Of…, Body, Mug, and Never Gonna Snow Again) who either gain or lose their strength in relation to another notable figure in their lives, Infinite Storm may be more spare than Szumowska's previous efforts, but it's an impressive feat which hopefully will expand her international acclaim.
★★★/☆☆☆☆☆