Newman Delivers a Nuanced Portrayal of a Troubled Wrestling Prodigy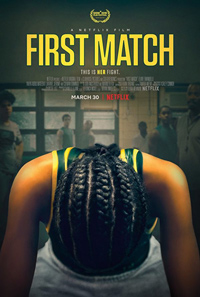 The physicality of wrestling lends itself to cinema, each movement part of a ballet. Matches feel more like negotiations than fights. In her feature-length directorial debut, Olivia Newman juxtaposes the intimacy of wrestling against a world of brutal underground street fighting. A young black girl out of foster care must choose between these two worlds; one nourishing and healing, the other fraught with despair. At once absorbing and life-affirming, First Match is a gripping drama about the relationship between a girl wrestler, her ex convict father and her all boys team.
Breakout star Elvire Emanuelle inhabits Monique with a fierce energy that permeates the film. Acting out at school and against her foster parents, she finds wrestling to be an outlet for her pent up aggression, and a temporary balm for her insecurities. When her father (Yahya Abdul-Mateen II) is released from prison he initially wants nothing to do with her, but when he recognizes her prodigious talent on the mat—the same talent that had made him state champion—he recognizes an opportunity. It's clear that he loves her, taking time to train her and gift her a new pair of shoes. But it's when the training turns to boxing and muay thai when the father's intentions shift and things take a turn for worse.
Newman's direction elevates the film without being too flashy. She puts the audience in Monique's POV as she enters the ring, seeing her coach, the ref and her male opponent come into focus as the sound design modulates. Ashley Connor's shaky camera aesthetic captures the unpredictable nature of wrestling and takes us from spectator straight into the ring. The score takes its cues from Moonlight, a clear inspiration for Newman—she even cast Moonlight heartthrob Jharrel Jerome as Monique's best friend and co-wrestler, in a delicate role that provides a sense of morality.
If you're looking for a happy ending: be warned, this isn't your typical Hollywood high school sports movie. We do get a sense of reconciliation in the final scene, but there isn't a big 'sweep-the-leg-Johnny' Karate Kid build. It's a quieter ending that resonates with hope, rather than a loud victory cry. The fact the filmmakers weren't pressured to fit a bold and unique story into a box is a testament to Netflix's artist patronage. In terms of sports dramas with mats, First Match may not have the pedigree of Foxcatcher, but it's warmer and ultimately more human.
Reviewed on March 12th 8-17th at the 2018 SXSW Film Festival – Narrative Feature Competition. 102 Mins.
★★★½/☆☆☆☆☆