Hidden Away | 2020 Berlin Intl. Film Festival Review
Painter Man: Diritti Resurrects Famed Italian Artist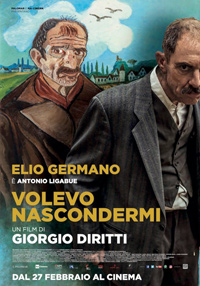 Italian director Giorgio Diritti presents his first film in seven years with Hidden Away, a biopic on famed painter Antonio Ligabue, one of the most noted Naive Artists (the term for an artist who has not gone to school to learn their craft) of the last century. Attempting to canvas Ligabue's lifespan, including his formative years which were marked by severe trauma due to treatment he received for his pronounced physical and mental ailments (many of which were arguably caused due to the abuse suffered as a child), Diritti chooses to leave out certain chapters of his adulthood and instead focuses on his renown as a painter in the 1950s and 60s. While the film features a strong lead performance from Elio Germano, the film's narrative structure is more conventional than the significant achievements of Ligabue would otherwise suggest.
Toni is born of an Italian immigrant in 1899 in Zurich but is raised by foster parents who are unable to rightly handle his mental and physical disabilities he has exhibited since birth. Eventually, he is expelled from Switzerland and returned to Italy even though he cannot speak the language. Changing his name in 1913 when he learns his father poisoned and killed his mother and three brothers, he lived on the River Po as a destitute beggar. When a kind stranger invites Toni (played as an adult by Elio Germano) to live with him and his mother he is allowed the opportunity to explore painting due to his avid interest in drawing. Recurrently hospitalized due to various altercations with several citizens, Toni's artistic achievements eventually bring him significant acclaim.
Reminiscent in tone to something like Julian Schnabel's At Eternity's Gate (2018), which showcased a similar trajectory undergone by Van Gogh while in France, where he was treated like a social outcast who also had to finagle his way out of a psychiatric hospital, Germano's stooped misfit also plays comparably to Matteo Garrone's recent Dogman (2018). Using art as the only way to navigate his identity and express his interpretations of the world, it's unfortunate more time isn't spent on his impetus and inspiration.
It's clear Ligabue was fascinated by nature, painting and sculpting a variety of animals and wildlife with whom he built stronger connections than humans due to the significant cruelty he experienced. While Ligabue's later years, where he enjoyed a period of fame and fortune for his works, including a noted short documentary by Raffaele Andreassi in 1961, are generally of more interest (for, unlike Van Gogh, Ligabue sold quite a lot of his works), Diritti tends to get bogged down with repetitive elements and skips over Ligabue's service in the Italian army during WWII working as an interpreter, while not bothering to go into details about a motorcycle accident and eventual paralysis which would land him back in the hospital he had earlier been released from.
While this isn't the first rendering of Ligabue on screen (there exists a three-episode Italian mini-series from 1977 called "Ligabue"), Diritti's latest recuperation of the artist feels much too ordinary for such an extraordinary person.
Reviewed on February 22nd at the Berlin International Film Festival – In Competition. 118 Mins.
★★½/☆☆☆☆☆