Pocket Full of Sunshine: Slattery's Debut Weak in the Knees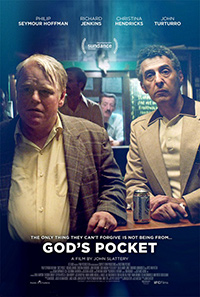 The devil's not in all the details he should be of God's Pocket, the directorial debut of actor John Slattery, most known for his presence on the series Mad Men. An adaptation of a 1983 novel by Pete Dexter, author of the novels that would spawn the unfairly shamed pulp of The Paperboy (2012) and Paris Trout (1991), this blue collar binge, tinged with a smeary myopic hue of sickly greens and faded palettes, plays like a sometimes comical visit to an outer ring of hell. Receiving mixed reviews after its premiere at the 2014 Sundance Film Festival, the death of Philip Seymour Hoffman, who portrays the lead protagonist, inevitably renews the rather moribund anticipation of the film. Unfortunate as that may be, it's an enjoyable performance from the late Mr. Hoffman, even though the film isn't quite effective as it could be.
In an insulated community in late 70's-ish South Philly, a neighborhood known as God's Pocket is inhabited by a large number of Irish and Italian folks, their uniting factor mainly in their detest of outsiders and penchant for booze. Journalist Richard Shellburn (Richard Jenkins) is a local celebrity despite his outsider status. A raging alcoholic, his flowery back-door compliments of the working class populace sometimes stirs their ire. Another outsider is Mickey Scarpato (Philip Seymour Hoffman), who married the neighborhood beauty, Jeanie (Christina Hendricks). She mothered a son from a previous relationship, Leon (Caleb Landry Jones), a hellion whose mean streak is immediately apparent when out of his mother's presence. An accident at Leon's work place results in his death, sending his mother into an emotional tailspin, complicating Mickey's current scheme of selling off a truckload of stolen beef carcasses with partner in crime, Arthur (John Turturro). As Mickey tries to scrabble together money for Leon's funeral for smarmy parlor owner Smilin' Jack Moran (Eddie Marsan), Jeanie becomes convinced that there was something fishy about her son's death.
Riding the fine line between black comedy and exaggerated dramatics, God's Pocket never quite balances the existential turpitude of these working class denizens. Neither does it specifically portray the local color that supposedly defines them vehemently. It's a pocket of people that time invariably seems to have forgotten about, lost as they are in their fierce pride concerning local identity. How or why they cling so desperately to this notion of community is never fully addressed. Rather, we're just informed of it through the pretentious ramblings of Jenkins' alcoholic journalist, a character that rather loosely bookends the proceedings to rather ill effect. After the denouement of another effectively uncomfortable performance from Caleb Landry Jones, the dread and menace established in its early scenes soon waver into apathetic episodes of trifling subplots. Slattery punctuates the action with two highly effective and surprising scenes of violence, jolting the energy of the film into high gear, but only momentarily before once again becoming a slave to ambling antics.
While Hoffman's performance as the paunchy and wearied Mickey, a small time hustler whose world revolves around nightly excursions at the neighborhood bar or enjoying the attentions of his attractive wife, is one of the film's definite highlights, other cast members are poorly realized. Christina Hendricks' gets to be a pouty, grief-stricken mother to underwhelming effect. Perhaps it would have helped to see her interact with her son a bit, but her insistence that little Leon's death wasn't an accident is unprecedented, a catalyzing action that's tacked on without a defining basis. A booze filled picnic she shares with Jenkins could have been an effectively dark sequence, but without the help of flashy tactics, God's Pocket tends to flounder whenever it attempts subtlety. And you might even forget that folks like John Turturro and Joyce Van Patten are involved at all.
Attempting to navigate through a series of bleak lives and unseemly existences alleviated by dark comedy, Slattery and co-writer Alex Metcalf manage to do so without cheap melodrama or condescension, even while its laughable title would indicate otherwise. But there is reluctance with the material—we never really get to know any of these people, not even Hoffman's Mickey. We're not quite sure what makes any of the main players tick, though several performances goad us into wanting to know otherwise. That said, God's Pocket is worth a look—certainly as one of the last performances of the great Hoffman, but also as an ambitious, if ultimately faulty directorial debut from long time actor Slattery.
Reviewed on May 01, 2014 via a Film Independent Forum screening at LACMA w/Elvis Mitchell moderating a Q+A with director John Slattery.
★★½/☆☆☆☆☆