The Egg & I: Bergholm Births Straightforward Tween Body Horror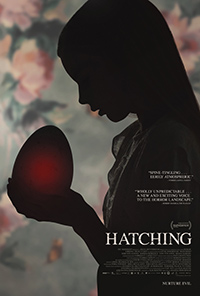 Finland's Hanna Bergholm makes a splash with her interesting, if ultimately one-note debut, Hatching, a metaphorical horror film borrowing folktale elements to provide a meaningful template examining familial and emotional dysfunction. At its core, Berholm's film employs a phenomenal use of practical effects, and anyone with a soft spot for creepy creature features will enjoy this throwback to Cronenberg and Jan Svankmajer.
Although not nearly as layered a narrative as it could be, with events unspooling as expected once all the prime elements are introduced, scribe Ilja Rautsi's sentiments about parent/child relationships, repressed personalities and the toxic superficiality of social media bolster significant empathy for a young protagonist consumed and disfigured by her internalized distress.
Tinja (Siiri Solalinna) belongs to the perfect Finnish family. Her beautiful mother (Sophia Heikkila) has a popular online channel, "Lovely Everyday Life," documenting her family's experiences. Her father (Jani Volanen) likes to garden with a sweater tied over his shoulders, and younger brother Matias (Oiva Ollila) takes great joy in pestering his sister. Tinja's accomplishments as a gymnast are part of her mother's documentation…only her interest in the sport seems to be more important to mom. One day, a crow gets into their living room, wreaking havoc. Mom kills the bird, making Tinja dispose of it in the organic waste. Later that night, Tinja hears crying in the woods. As she investigates, she finds the wounded bird, bludgeoning it to a pulp. An egg on the ground nearby inspires Tinja to take it and hatch it herself. While Tinja's mother embarks on a not-so-secret affair with a handsome widower (Reino Nordin), the egg begins to grow exponentially, seemingly in response to Tina's growing anxiety about an upcoming gymnastic competition. When the egg finally hatches, the creature emerging from it seems to share a psychic connection with Tinja. And then bad things start to happen.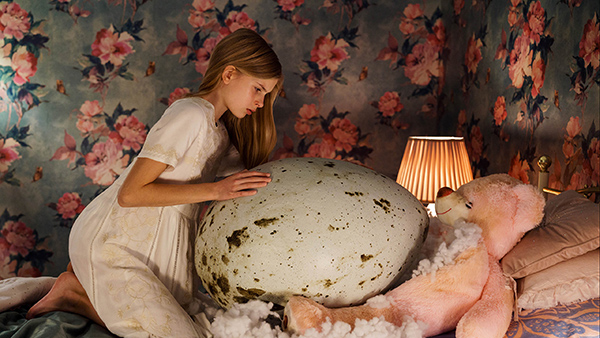 Like David Cronenberg tackling Dorian Gray, Hatching utilizes a familiar technique, and is most fun when Tinja is playing alongside her developing alter ego. In many ways, this essence of a familiar acting out the rage its host cannot has been revisited countless times, whether in glorious B-movie cult classics like Baby Blood (1990) or Basket Case (1982) or higher brow freak shows like The Brood (1979), a femme centered psychosomatic extravaganza Bergholm seems to be on the same wavelength as.
In her screen debut, Siiri Solalinna gives an empathetic portrayal as a young girl who is mostly acted upon by outside forces while everyone else seems to be a suburbanite caricature languishing in black comedy overtones. Besides the creature Alli, the real standout is the coldly manipulative, and ultimately just plain selfish mother played expertly by Sophia Heikkila. She's just funny enough to court a camp self-awareness but overall plays her compartmentalized lives with painstaking precision.
It's unfortunate the focal point doesn't move beyond Tinja and her mother other than in broad strokes (father and brother are facsimiles who barely register as human), because overall, the film seems to feel most potent as a metaphor of our need to create beings, whether human or otherwise, to control and use for unconditional comfort. Jarkko T. Laine's blown out cinematography (reminiscent of Kaurismaki's cinema), paired with an oppressively picture perfect purity in the interior set design, assists in formidable juxtaposition with the developing and menacing Alli, a changeling perhaps better equipped at navigating Tinja's family than she is.
★★½/☆☆☆☆☆