Reviews
High-Rise | 2015 TIFF Review
Closer to the Gods: Cult Author Meets Cult Director in Wheatley's Latest Dish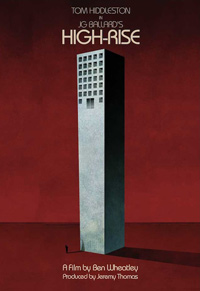 Destined to be overlooked as a visually impressive but significant creative failure, Ben Wheatley's maddening High-Rise is a stylistic exercise of considerable merit, belonging to a dying tradition of complex, even confounding cinema forced to scrabble for appreciative audiences from future generations. Of course, those familiar with the source text from author J.G. Ballard, an author last significantly adapted by David Cronenberg with 1996's infamous Crash, should already be expecting a certain elusive appeal.
Channeling a number of British auteurs who churned out experimental narratives in the golden age of the 70s, Wheatley's film excitingly recalls works of Ken Russell, Nicolas Roeg, and John Boorman, directors who broke new ground with challenging titles, often dismissed upon release, reconstituted decades later by cultish devotees. In essence, a thinly veiled metaphor of class warfare and the age-old difficulty of ascending from one's assigned perch, Wheatley revamps Ballard as pitch black class comedy.
Dr. Robert Liang (Tom Hiddleston) moves into a luxurious apartment complex, somewhere in the middle of a towering high-rise. Recently single, he seems to seek new beginnings, and is immediately inducted into the considerable revelry of neighbors from the surrounding floors, like the sultry Charlotte (Sienna Miller) and a struggling documentarian (Luke Evans) tied to a very fertile wife (Elizabeth Moss). As Charlotte informs him during their exploration of mutual attraction, success at the complex is determined by the rigid class system in place. Luckily, the building's designer, an aged architect (Jeremy Irons) whose decadent living quarters are perched above all the others, rather likes Liang, inviting him to an elitist party on the upper floor hosted by his wife (Keeley Hawes). But the good doctor soon discovers firsthand the difficulty in attempting to mingle with those who consider themselves above another's station.
In many ways, High-Rise is an interesting comparison to something like Boorman's Zardoz, though Wheatley's comedic mannerisms in this particular class microcosm are thoroughly intentional. Since the film opens on the results of total anarchy brought on by class warfare, it's no surprise where this ends up. Like the designer of the train in Snowpiercer, Jeremy Iron's architect resides at the very top of his castle in the sky, oblivious to the dreams and desires of the lower class quarters, removed from 'reality.' But the problems with his design for this 'crucible of change' are immediately apparent, reflected through the interactions of the booze-swilling, pill popping swingers frequenting all the building's class realms.
Like the black, rotting peaches growing fuzz in the complex's grocery store, the infrastructure is already in a state of advanced decay. Though none of this is very frightening, Wheatley maintains a droll tone effectively, carefully dropping vintage homages, like Luke Evans' performance inspired by Russell regular Oliver Reed (likewise, in his apartment shared with \Moss hovers a film poster of Karel Reisz's 1966 film Morgan: A Suitable Case for Treatment). Composer Clint Mansell supplies an exquisite score befitting of the film's offbeat atmosphere, but Wheatley includes an alluring cover of ABBA's pop hit S.O.S. from trip-hop English band Portishead that fits perfectly with the mixtures of pastiche and increasing sense of menace.
Hiddleston is likeable as the mild mannered physiologist, a man who 'knows his place,' and there's entertaining support from Elizabeth Moss, Keeley Hawes, and Stacy Martin. But Wheatley gets surprising turns from the likes of Sienna Miller and Luke Evans while a reptilian Jeremy Irons is a perfect fit as the head of the snake.
Certainly not calibrated for the tastes of all, Wheatley's High-Rise is a dark-hearted portrait of economic advancement vs. oblivious privilege, and while its damnation isn't anything new, as a radio broadcast of Margaret Thatcher warbles on about economics and freedom through the finale, the adverse responses to the film recall another Thatcher quip in that "we are governed by people who care more about feelings than they do about thoughts and ideas."
Reviewed on September 16 at the 2015 Toronto International Film Festival – Platform Program. 112 Mins.
★★★½/☆☆☆☆☆